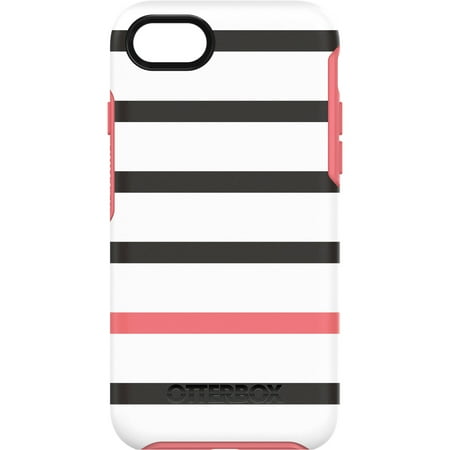 Made with quality materials that are designed to protect your Apple iPhone, this product from OtterBox will give you the comfort you look for in phone protection. It is easy to install and made to last.
OtterBox Symmetry Series Graphics Case for Apple iPhone 7:
Materials:

Synthetic rubber
Polycarbonate

Features:

Stylish designs: dynamic graphics and exclusive designer patterns dress up your phone
Slim profile: sleek design slips easily into pockets and purses
Screen bumper: raised, beveled edge helps protect touchscreen
Easy installation: one-piece design slips on and off in a flash
reviews
I bought this otterbox & so far its A great purchase. Hasn't given me any issues so far.
I purchased the Symmetry in Newport. Great fit on the iPhone 7. Very stylish. Like previous reviewers I was a little worried about screen protection, so I added a glass screen protector. It is worth noting, like other have pointed out, the color online is not accurate. Online it does look bright pink. It is not. It's definitely more of a bright coral-ish color. Still a very attractive case in my opinion. But if you are looking for a true pink, this is not it.
Bought this symmetry case for my iPhone 7. Love it. Stylish yet provides ample protection for my phone.
I bought this about a month or so ago. There was a mix-up with the shipping address, so the shipment was delayed. But Customer Service helped straighten it out, and I got the case last Wednesday. Easy to snug my iPhone into the case. It's very protective, and it's pretty cute. I'm not overly careful with the phone, and I haven't seen any scratches or damage at all to the polka dot design on the back.
This is a great phone case. It's not so bulky like the Otterboxes. The design is so cute in this particular case. The only downfall is that I like to charge my phones on a docking station and I can't do It with the case. I still have it 5 stars because most cases won't let you charge on a docking station.
My case shipped fast and is really cute!the colors are very vibrant and I can tell that it really protects my phone from damage
I bought this case for my iPhone 7. I was skeptical about the color scheme and protection it would offer when I saw it online, but I decided to give it a shot. I am so glad I did!! It offers the protection the Otter Box cases are famous for and the colors compliment my white phone perfectly. Thank you Otter Box for continually going beyond my expectations!!!
I Have always been an otterbox fan. This is a very pretty case. I love the sleekness of it. It was pricey though and I expected more protection for money spent. Not sure how much better it'll be than others that are much cheaper. I did go ahead and get a glass cover for my screen. Shipping was slow from otterbox company.
This case is not good at all it covers up the microphone so no one can hear me,or can only hear parts of what im saying.