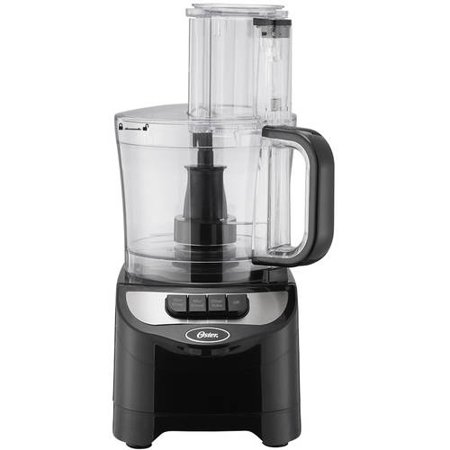 Prepare delicious gourmet meals and sauces with the help of the Oster Total Prep 10-Cup Food Processor. This device features a large work bowl that is supported by a powerful 500-watt motor. It comes with a dough-blade that makes for hands-free kneading of homemade pizza crust, cookie doughs and bread. It also has an extra-large and continuous feed chute that handles ingredients without needing to cut them first. The Oster 10-cup food processor has two speeds and pulse to achieve precise results when working with soft or hard products. It also includes an S-shaped blade for mixing and chopping. A reversible stainless-steel disk enables slicing and shredding. The Oster food processor with dough blade boasts multiple functions so you can reinvent dishes and experiment with new recipes. This model is dishwasher- safe.
Oster Total Prep 10-Cup Food Processor with Dough Blade:
10-cup capacity work bowl and powerful 500W motor
Food processor with dough blade for hands-free kneading of homemade bread, pizza crust and cookie doughs
Simple assembly makes setup quick and easy
Extra-large, continuous feed chute processes most ingredients without pre-cutting
2 speeds plus pulse for precise results with hard or soft ingredients
Oster 10-cup food processor includes an S-shaped blade for chopping and mixing, dough blade for kneading and reversible stainless-steel disk for slicing and shredding
BPA-free parts are dishwasher-safe
reviews
Best 10 cup processor for the price. Multiblade includes dough blade. Large feeder tube AND additional reducer for feeding smaller items. Suction cup feet won't slide around on the counter. Plenty of power. Slice/shred, mix/knead, chop/pulse buttons. Pleased with purchase.
I bought my mother one for Mother's Day, and decided I needed one myself. We both love it, and my mom is one to use hers several times a week. It's only been 5 months, so I can't comment on how long it could last, but we are happy with ours and love it so far!
Lightest weight food processor easy to use easy to clean suggest for all cooks young and old love live it
I am a baker and sell my goods at the farmer's market. I was motivated to buy this food processor based on the reviews and see if making pie crusts and scones could be easier. I am happy to report it can! I use the chopping blade to make pie crusts and they come out perfect every time. This is using gluten free flours which is no easy task. And it does help with scones too. I use the blending blade to mix the dry goods, then pop on the shredding blade to blend in the butter and it works great. The reviews were correct.. the manual on this food processor is very easy to use and understand. It is a very easy machine to use and I have no prior experience. Pay attention to the directions to unplug the machine before you open the cover! I really like this machine and recommend it.
I've Held Out for YEARS buying myself a Food Processor, and when I saw this GREAT PRICE, I knew it Was Time to Gift Myself. I will be buying my daughter this as well…for Christmas
This Oster 10-cup food processor is worth its weight in gold! I have owned other processors from very small to very large, and this appliance is outstanding. It does not take a ton of counter space and it makes cooking much easier. I love to cook, but I hate all the prep and clean-up. A few months ago I was in charge of a large church dinner for about 50 people. If I wouldn't have had this food processor I would have never been able to prep all the food for all those people within a reasonable amount of time. I was able to chop onions, make pesto, chop and puree tomatoes and so much more. I ever read a few bad reviews for this product, and I am truly puzzled how anyone could have ANY complaints about this product. I LOVE, LOVE, LOVE this food processor and highly recommend to add this to your kitchen tools.
Have only used once yesterday with the chopping blade and it was great!! Easy clean up. Will let you know later about the dough blade when I get to use that.
Dough blade made out of cheap plastic and broke in two days. Waste to buy if looking only for dough blade. Rest it may be good.
Oster Total Prep 10-Cup Food Processor with Dough Blade:10-cup capacity work bowl and powerful 500W motorFood processor with dough blade for hands-free kneading of homemade bread, pizza crust and cook...
The Oster Total Prep 10-Cup Food Processor with Dough Blade makes it easy for you to prepare any meal with confidence. Imagine fresh pizza made at home using the processoras dough blade, as well as th...