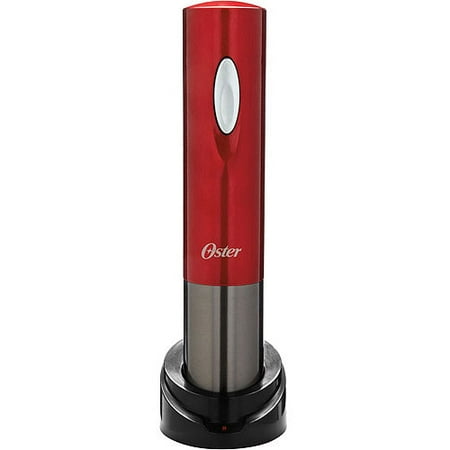 Designed to fit all traditional wine bottles, this Oster Electric Wine Bottle Opener offers convenience and a sleek presentation. This portable bottle opener comes in your choice of black or red and features a cordless design that uncorks a wine bottle in a matter of seconds. Stylishly designed with an ergonomic handle and metallic finish with brushed gunmetal accents, this wine bottle opener will add sophistication to any home bar, wine cart or kitchen. Fast, zero-effort cork removal means more time to spend with guests. A separate recharging base ensures mobility and convenience, and the included foil cutter allows for quick removal of wine bottle seals. Simple and easy to handle, this entertaining bottle opener is a must-have item for any wine connoisseur. With the Oster Electric Wine Bottle Opener, serving wine at parties is hassle free and much more enjoyable.
Oster Electric Wine Bottle Opener, Metallic Finish:
Metallic finish
Opens a wine bottle in seconds with zero effort
Cordless operation with recharging base included for convenience and mobility
Designed to fit all traditional wine bottles
Can open up to 30 wine bottles on a single charge
Includes a foil cutter to remove seals
The Oster Electric Wine Bottle Opener is available in Tuxedo Black or Metallic Red
reviews
I had a previous cork screw, but this works far better. Very reasonably priced!
Works well. Needed to replace a premium heavy duty opener (4 yrs old) with dead battery. This opener is comparable; works well.
I've had a couple of these wonderful electric wine bottle openers. I love it. So very easy and fast if you read the directions. Am giving as gifts and receivers are loving them too
This is a Christmas gift and it seems like the perfect gift. Actually, shipping was on time for Christmas which was surprising. You can't go wrong with Oster….it's a good name. I can't comment on how it works because they have not used it yet as it is a Christmas gift.
For the money, this is an excellent purchase. Does exactly what it's intended for and inexpensive.
Bought this wine opener as a gift for a friend. I have previously bought one for myself and it is great to open wine bottles in such an easy and effortless way.
Used it for 60 days then it broke. Cork wont come out. It will cost me more to ship it back to get a replacement. My loss. Why is it so hard to find a good one of these?