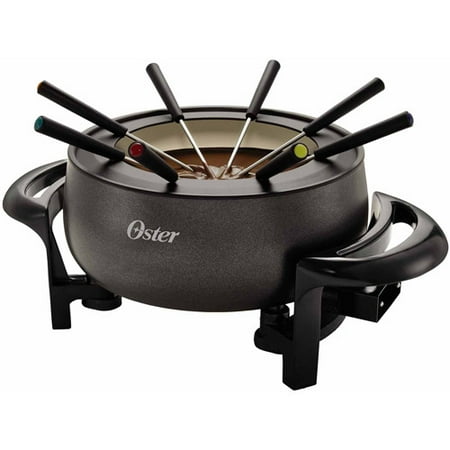 Enjoy delicious meals and desserts with the Oster Fondue Pot. This product makes a wonderful centerpiece to group dinners and adds entertainment to any meal. The Oster Duraceramic fondue pot is PFOA and PTFE-free and is designed to cook up to 20 percent faster than the standard fare. This model boasts a unique and innovative non-stick coating that's built to last four times longer. Its specialized surface also will not flake or peel, making clean-up a breeze. This three-quart fondue pot is removable and has a magnetic breakaway cord for added safety. Its temperature controls are adjustable. This package includes eight fondue forks and a fork holder ring.
Oster Duraceramic 3-Quart Fondue Pot:
Unique, innovative DuraCeramic non-stick ceramic coating lasts 4 times longer
Won't flake or peel and makes clean up a breeze
Natural DuraCeramic is PFOA and PTFE-free
Oster Duraceramic fondue pot cooks up to 20% faster to save energy and time
Removable; adjustable temperature control
Magnetic breakaway cord for added safety
3-quart fondue pot includes 8 fondue forks and fork holder ring
Model number: FPSTFN7700W-ECO
Prepare appetizers to gourmet dishes to desserts with the Oster fondue pot
reviews
I really like that I can just plug this in and set the temperature. I have two other fondue sets that I have to use the fire gel with and it's a pain trying to keep everything the right temp without burning cheese or letting it get too cold. The only reason I gave it four stars is that the cord is super short. I don't understand why since when people normally fondue it's at a table not right against the wall. Other than that I love it! Easy-peasy!
I purchased two. They heat very, very hot. Love that the plug is magnetic. If someone were to pull or trip on the cord, the chance of injury is minimized. The plastic ring that sits at the top is a pain, so, we took it off and left it off. It didn't really help hold the forks anyways. This is by far the best value out there and researched many.
I did love this item but we did scratch it already but definitely worth the money!
Will definitely be buying another one in the future!
The product works fine, but the temperature selector is just under the handle and therefore difficult to reach
We did cheese fondue in these. Great heat up, a little touchy in trying to get the temperature to hold just right. Very easy too clean up.
This is most definitely THE BEST Fondue Vesssel on the market for the $$$. The ability to control the amount of heat is as precise if not better than fondue vessels 5-10 times more $$$. A STEAL by Oster at this price!!!
I bought this fondue pot so we could do fondue for Christmas Day. I got it home opened up the package to make sure all piece were there. Never gave it another thought until prepping for Christmas dinner, plug it in it doesn't start heating. Long story short the pot never heated at all. Bummer when you have planned your Christmas meal around it. The plug is weird that goes into the actual pot, it says it's magnetic not sure why or if this was the problem but I'd never experienced that before.