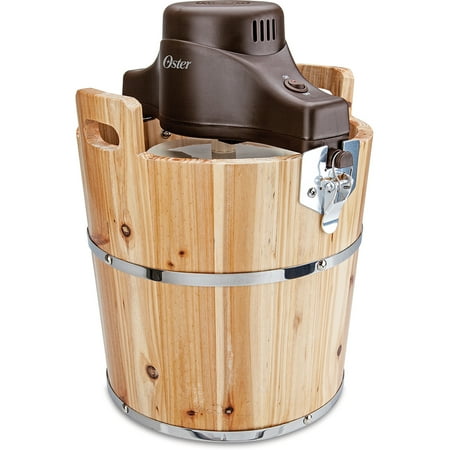 Bring the nostalgia home with this family-friendly Oster Wooden Ice Cream Maker Bucket, FRSTIC-WDB-001. Housed in an antique-looking, solid pinewood bucket, but with a motorized electric crank so you don't have to work so hard, the Oster Wooden Ice Cream Bucket makes up to four quarts of delicious homemade ice cream at a time. Simply add rock salt and ice to the bucket and ice cream mix and other ingredients to the inner container and this homemade ice cream maker takes care of the rest. Make anything from creamy, dreamy vanilla, dark chocolate or fresh strawberry to tantalizing mint chocolate chip or cookies and cream!
Oster 4-Quart Wood Bucket Ice Cream Maker, FRSTIC-WDB-001:
Homemade ice cream maker makes up to 4 qts of delicious homemade ice cream or frozen yogurt
Use Rival Ice Cream Mix (sold separately) or your own recipes to easily create your own frozen treats in 40 minutes or less
Motorized electric crank
Solid pinewood bucket
1-year warranty
Model# FRSTIC-WDB-001
reviews
Easy quick and bam!!!! Delicious! Love this ice cream maker
This machine makes it easy to make homemade ice cream. It now has handles which makes it easy to carry. It took a little longer (maybe 45 minutes) to make than our previous machine but the end result was still delicious! The machine does the work and you get to enjoy the ice cream…can't beat that. This machine is real wood which, in our opinion, makes better ice cream than the plastic machines. We had our prior machine for 30 years and it was nearly the exact machine so we expect this one to last just as long. We make homemade ice cream a few times throughout the year and it beats anything you can buy in the store. We received our first machine as a gift. We joke about the gift that keeps on giving as we continue to make homemade ice cream again and again. It truly is a treat to remember.
This was the first ice cream maker we purchased. I first ordered it for in store pick up but forgot my email and they wouldn't give it to me even though I could see it on the counter behind them. So I purchased it off the floor. I almost didn't since I was angry but I am glad I did. It works really well. It is sometimes hard to get it to latch but I have found that to be a minor inconvenience. This is the perfect size as it makes enough ice cream for a family of 5 with some leftover.
Got it for $20.00 "in store" on the bargain shelves near the Pick-up Order Desk. Such a deal. I love the wooden container, so attractive! I don't like eggs in ice cream, so I didn't use the recipes in the booklet, look one up on the internet. After I made some great Egg-less Fresh Peach Ice Cream, I was duly impressed. I would have spent the full price for such an easy to use machine! I did not have to soak the bucket, it didn't leak at all. Made it inside our air conditioned house, so never even had to replace the ice/salt. Was done in 45 minutes, and hardened it in the freezer for 4 hours. Best Peach ice Cream I've ever had. Clean-up was a breeze. Have it all put back into its box with wrap and cardboard, so I don't lose any parts, and it doesn't get crushed.
Freezes faster I like it when I can see though the lid to see how the ice cream is doing.
I've used the product twice to make Strawberry ice cream. Very good. Now I want to try chocolate. I would like to find the user guide online but can't. First, at some point I'm going to lose the booklet. Second, the font is so tiny I have difficulty reading the thing.
My friend bought a cheaper version at a Walmart store because they were out of this kind. I took it back to the store and used the gift card to buy this one online. My first purchase on Walmart.com. Very timely shipping and nothing broken. Everything arrived in great condition.
Love the wood look. Its old fashion appearance is old school memory. This is my second one because we use it so much with family I needed a second one. By the way the first one still works like new we needed a second one for big family. You wont go wrong.
So far, made ice cream about 7 times about 1-1/2 quart each time. I made Vanilla, Pina Collada, Chocolate -Chocolate chip, Blue berry & mango . Chocolate -Chocolate chip was a big hit at a party. Each time it took about 1/2 hour of machine time. The secret, that I remember from my childhood days is to add enough salt in ice. Layer it – Ice salt-ice salt. I used about 2 lbs of salt each time. Remember salt makes ice melt & melted salt water can be as low as -20 degrees. That is what makes ice cream.
Even after presoaking for hours, this thing leaked like a sieve. As much as I wanted to have an old time ice cream maker like I had as a kid 60 years ago, this doesn't even come close. It had more leaks than a row boat in a cartoon. I thought about trying to patch it up, but the filler and sealer would have cost me more than a new ice cream maker with a plastic liner. So much for nostalgia. I guess, sometimes, new fashioned is the best way to go.