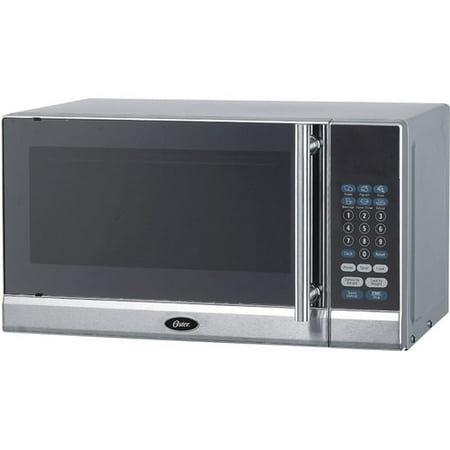 The Oster 0.7-Cubic Foot Microwave Oven delivers up to 700 watts of power for your food preparation needs. This 700-watt microwave oven features six separate one-touch cooking settings for quick and easy usage: potato, popcorn, pizza, beverage, frozen dinner and reheat. An LED display with a digital timer and digital clock makes it easy to track your cooking time, and you can use this Oster microwave oven as a kitchen clock. The Oster 0.7-Cubic Foot Microwave Oven features a glass turntable that can be easily removed for convenient cleaning.
Oster 0.7-Cubic Foot Microwave Oven:
10 adjustable power levels
6 auto cooking/1-touch menu options (potato, popcorn, pizza, beverage, frozen dinner and reheat)
Express cooking and weight defrost
Digital timer and digital clock
700 watts of cooking power
Removable glass turntable
1-year warranty
Dimensions: 17.8″L x 14.06″W x 10.32″H
Model# OGG3701
Warnings:
California Proposition 65 Warning: WARNING: This product may contain chemicals known to the State of California to cause cancer andbirth defects or other reproductive harm.
reviews
Perfect size! Good to heat up a cup of coffee or small dinner plate. Takes up less space than my previous one and has a sleek design.
It has everything you need from the microwave. It's light weight. It doesn't take a lot of space. The quality is good
This is a very attractive addition to the kitchen here. It replaces a similar unit, made by a different company, one that rusted from the inside (chips of white paint festively sprinkled across one's meals…). Frankly, this was the only unit Walmart sold that would fit into a very, very tight space between countertop and cupboards of a home built in 1870. (I am able to slide one, but not two empty, business sized envelopes into the tight gap between the top of the microwave and the lowest edge of the cupboard. Having said that, and having used this particular product for a week or so, I'd buy another if I needed a mini-microwave, and happily, I'd suggest this product or another Oster microwave to friends. It's attractive, well designed (no door lock button to fail), as easy to get used to as any modern, electronic product and seems more powerful than the 700-watt unit it replaced — I've had to shorten cooking and warming times accordingly.
my aunt of 89 years old LOVE LOVE LOVE her new microwave so easy to open , and does everything she wanted .regards, her nephew
I ordered these to use in a cafeteria, so it goes through lots of usage. Given its performance ended up ordering another one.
I purchased 3 of these for a cafeteria with lots of people using it daily. So far it is holding up well… good price and it does the job
I had my kitchen redone in stainless steel appliances and thought this microwave would have been an added touch. The size was perfect, since I would had been using it just to reheat food or for popcorn. However when it arrived it had a dent in the handle. If wasn't for the dent I would had giving five stars. It will be going back to Walmart…
Great little microwave for the price! Downsized from a larger unit and there is more space on my little countertop. Does a good job reheating. Love it!
The stainless look is nice but the glass plate does not fit on the bottom of the microwave correctly so is does not spin. It is very difficult, if not impossible to cook or heat anything up properly.