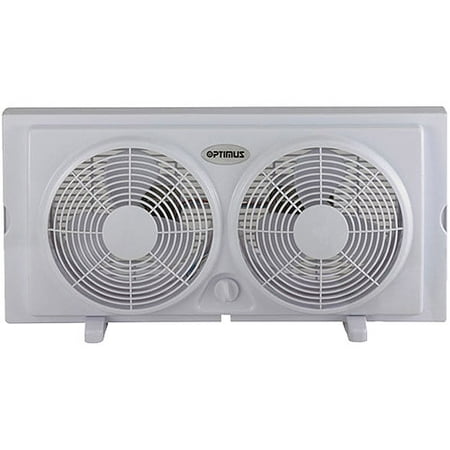 The Optimus 7″ Twin Window Fan, FNOP5280, features a two-speed rain-resistant motor for efficient air delivery. You can feel the power of its output. This dual window fan pulls cool air in and exhausts stale air out. It is manually reversible and has speed control on both sides. It also has a built-in adjustable slide screen to fit into almost any window. The Optimus window fan comes with feet to provide free-standing operation. You can place it wherever you need some extra cooling. The carrying handle makes for easy carrying and installation. This fan has safety grill guards to protect children's fingers. This is a convenient fan to keep at home for when the temperature outside rises. You can enjoy sitting in front of it as the cool air whisks away the heat and sweat. It provides you with freshness and rejuvenation and comes in an attractive white color.The Optimus 7″ Twin Window Fan arrives fully assembled with no tools required for installation.
Optimus 7″ Twin Window Fan:
Dual window fan features 2-speed rain-resistant motor for efficient air delivery
Manually reversible with speed control on each side
Pulls cool air in or exhausts stale air out
Built-in adjustable slide screens
Carrying handle for easy carrying and installation
Optimus window fan with feet for free-standing operation
Fully assembled, no tools required for installation
Safety grill guards children's fingers
Color: white
Model# F-5280
Directions
:
Fabric Care Instructions: Follow instructions provided on the tag or packaging.
reviews
This window fan was the perfect merchandise to buy putting it on the window with the cold air blowing in is the best while sleeping. It's wonderful
I brought this fan to air out my room. It fits on my window and is operating quietly. I like it.
This fan works well in our kitchen window that was too small for an air-conditioner. Love the fact that is can be reversed to draw out stale air as well as drawing in the cool air. It is quiet and very light weight. Works well. I would recommend the fan to all my friends and family.
Bought this fan for my son, said it works great, he has small apartment and its perfect. Good product…
I wish it would reverse electronically, but for the price, I'm ok with having to turn the fan around when needed. It seems to provide plenty of power to move the air. The removable "feet" was a good idea.
I put the fan in a small chicken coop, it works just like it said it would, ok for a small room
This product is great. The only thing I wish I knew about the product before ordering is that when the advertisement said manual reverse it meant taking the unit out of the window & turning it around. I thought manual reverse meant it had a dial to turn.
I bought this fan thinking that it would bring in outside air and exhaust. No! You have to take the fan out the window and flip it around for that. And with the cord on one side of the fan, it will never sit steady in the window in the "exhaust" position. The fan is loud and it doesn't really move air. Don't buy it. I'll be returning mine.