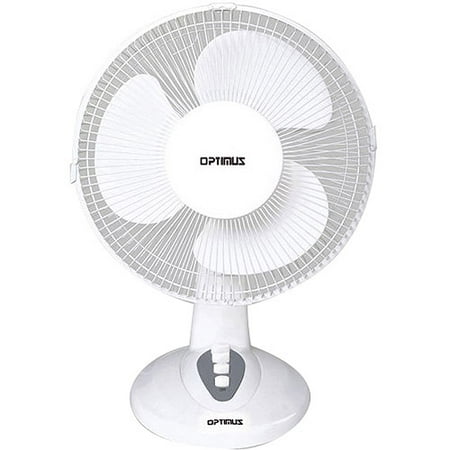 The Optimus 12″ table fan (FNOP1230) features three energy-saving speeds and whisper-quiet operation that make it a good choice for the home. This Optimus oscillating fan has four piano key switches on the base that are easy to access. With full directional 90-degree oscillation, the Optimus 12″ table fan (FNOP1230) can cool down almost any room. The oscillating table fan also features an adjustable tilt and angle head for vertical settings. There are no tools required for assembly, and its white color will fit in with most decors.
Optimus 12″ Oscillating Table Fan:
Three energy-saving speeds
Whisper-quiet operation
Four piano key switches (Off, Lo, Med and Hi) on base
Full-room directional 90 degree oscillation
Adjustable tilt/angle head for vertical settings
No tools required for assembly
Easily removable powder-coated safety wire grill
Color: white
Model # F-1230
reviews
We wanted a nice, quiet fan for our bedroom at night and this is perfect! The only complaint would be the short power cable but an extension cord solved that so it is a non-issu.
I appreciate this fan. It's quiet enough for me. It's a nice fan. I think the person who had trouble with assembly might have a defective one. This was very easy to assemble. I expect it to be easy to clean. The closures would not keep out an inquisitive 2-year-old, though. When I say they're easy to do, I mean it.
Great fan for the price! It's quite and pushes a lot of air. Also, very easy to assemble.
Everything described about the product was perfect.
The fan was good in many ways. The fan blades were white, and therefore easy to see dust builtup. The fan guard was of metal and not as easily damaged as those that were plastic. I liked the push button speed control. At the two slowest speeds it is very quiet – good for sleepers. Some have commented that it is difficult to assemble, but I didn't have this difficulty. Only two negative items come to mind. The fan as a whole is light weight, and there is not any extra weight in the base to help hold it erect. If not placed on a level surface it may tip over. The fan angle adjustment had no tightening knob, just a screw needing a screwdirver. The angle adjustment was not infinitely adjustable, only about 3 to 5 adjustment detents by means of a ratchet. If the screw was not tightened sufficiently the adjustment will slip.
IT IS A GREAT FAN,IT PRODUCES COOLING AIR BY THE WAY THE FAN BLADES R SHAPED, VERY HAPPY THANK U GOD FOR HELPING ME GET THIS…
I picked this item up after waiting a week for it to be shipped clear across the country. When I got the fan home, I opened the box and could tell right away that this had been returned by someone else and shipped out again. When I put the stand down on the counter before attaching the fan to it, I could see it was very cheap plastic and very badly warped. I did not even put the fan together because I could see it would never sit flat on a table. It should never have been shipped out in that condition in the first place, and this has made it necessary for me to make one trip to pick it up and now another to return it. Obviously, I was very disappointed in my purchase and will be returning it soon.