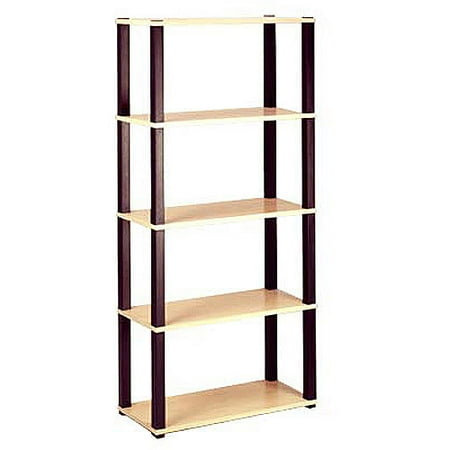 The Open 5-Shelf Bookcase combines utility with grandeur and has a perfect design for showcasing books or collectibles. This lightweight, attractive and sturdy wooden open bookcase can be put to a good use in any corner of your home for showcasing or stacking items. The grand design of the space saving bookcase will make even smaller rooms look spacious. The shelves are sturdy enough to take the weight of your books. Each shelve can take a weight of 55 pounds separately. It is a decorative bookcase that will require some minimum assembly upon delivery. No tools are required for the simple assembling process. It features an elegant finish that will allow it to blend in neatly with any kind of home decor. Bring home the Grosfillex wooden open bookcase and utilize the space in your bedroom, office or study more effectively.
Open 5-Shelf Bookcase
Attractive, sturdy shelving
Black supports; shelves in multiple finishes
A good piece for adding additional storage or decorative display space to almost any room
Easy assembly; no tools required
26-1/4″L x 11″W x 57-1/2″H
Each shelf holds up to 55 pounds
Wooden bookcase is manufactured by Grosfillex
Reviews
Eventually I would love a room dedicated as my personal library. However for now, I will have to do with books shelves here and there complementing my home décor. The shelving units are super easy to assemble (no directions needed), blend in well with my other home elements, and can hold quite a few books well. I purchased two of these years ago and just purchased two more due to my growing collection. If you make sure you don't put too much weight on one shelf these will work just fine.
It's a great book shelf for the price. It's a little cheap looking, but serves the purpose. It's nothing special, but I think it's a good buy.
I needed this to make use of some space in my kitchen. Very easy to assemble (less than 10 mins) and quite sturdy. Very happy with this purchase.
This is the second time I have ordered these, and I would order them again anytime when the need arrives. So simple to put together! The give any room an airy, spacious feel because there is no back to them. A delightful addition for books and knick knacks.
Very sturdy. can hold more than the 50lbs it says on box. good looking and super cheap. took me 10 minutes to put both shelves together no tools required.
What attracted me to these was "no tools necessary". They assemble in minutes and are solid and stable. The shelves, while particle board, are well made and have veneer on all sides. They look clean and stylish. I bought three sets of two and used them to shelve my twelve cases of books recently moved from my previous home. They look great and I am very happy, and would recommend to anyone.
I have made 2 inquiries to the manufacturer and have not yet received an answer. I am requesting 2 replacement feet for the unit, since 2 of the 4 were broken beyond use prior to delivery. As soon as I receive the replacement parts I can properly evaluate this purchase.