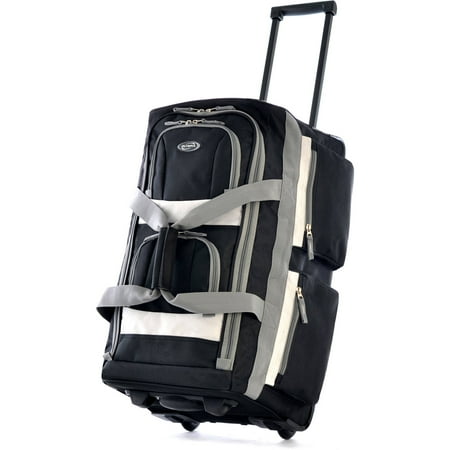 Whether you travel frequently or just on occasion, this Olympia 22″ 8-Pocket Rolling Duffel will handle all your packing needs. Between your use for professional or personal travel, and being handled by baggage personnel at airports, this luggage can sustain a lot of wear and tear. This Olympia duffel bag with wheels is constructed of supreme polyester for durability. It features recessed metal ball bearing in-line skate wheels for a smooth feel while rolling. It has eight convenient pockets for maximum packing versatility, with self-repairing zippers for when you try to pack too much. The 22″ Olympia luggage 8-Pocket Rolling Duffel Bag comes with a U-top opening into a roomy main compartment for ease in packing. The hideaway retractable handle with zipper closure allows you to choose between carrying or rolling the bag.
Olympia 22″ 8-Pocket Rolling Duffel:
Constructed of supreme polyester
Recessed metal ball bearing in-line skate wheels
Hideaway retractable handle with zipper closure
8 convenient pockets for maximum packing versatility
Self-repairing zippers
Olympia duffel bag with wheels has U-top opening to roomy main compartment
Available colors: black, dark lavender, hot pink, navy, red, royal blue
Warnings:
California Proposition 65 Warning: WARNING: This product contains chemicals known to the State of California to cause cancer, birth defects or other reproductive harm.
reviews
I walk a lot as I do not own an automobile. I use his duffel bag to carry my medications on the bus to and from my doctors appointments as well as to bringing my groceries home from the store and my laundry from the Laundromat .
Bag is functional as well as stylish. Compartments are useful for organizing clothes and gear.
This is a gift for my grandson for Christmas…….It's great, just as expected and delivered early and packed well. Good durable piece.
I ordered these for our grandchildren. When they came I was so happy with them I had to order one for me and my husband. They look nice and seem to be well constructed. They could be packed in your suit case and used when shopping on vacation and carried on when returning or used for a carry-on. They are good sized and I would probably be able to use them on our shorter trips as my only bag. Love all the pockets and the fact that it can be carried as a back pack or rolled.
This duffel bag is the perfect size for your emergency "go bag" in case of disaster. I bought 4 of them and my family just loved them because all their disaster needs can be neatly organized with the 8 pockets. Since they all wanted one….I had to order 3 more. The duffel rolls easily fully packed with all our supplies. Great price too!
Purchased this duffle for 1 person for a 5 day trip. It was perfect–plenty of room for clothing and accessories with room left to bring home some items. It was durable with airline handling and stood out on luggage conveyor with it's bright red color. It handles well with rolling wheels. Could have purchased a much more expensive duffle from name brand catalog but decided to give this one a try. Great value for money spent! Going to buy another.