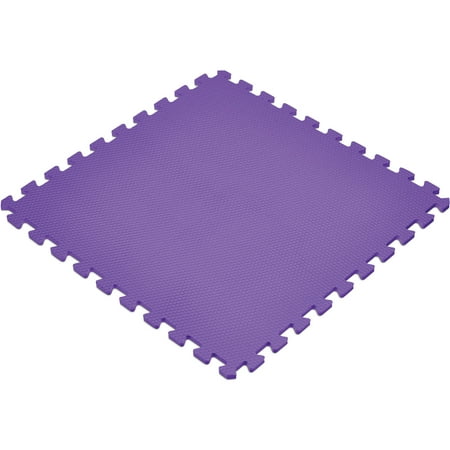 Norsk Solid Color Foam Mats now come in a convenient six-pack. Each pack includes six solid colored mats and 12 straight edge borders to provide a finished, uniformed look. Each interlocking mat is .47 inches thick and measures 24 inches (L) by 24 inches (W) for a total coverage of 24 square feet. Made from the highest quality recycled materials, this design is an environmentally sustainable interlocking flooring solution. Our foam tiles are extremely durable and can be installed similar to other puzzle mats or foam floor tiles with a variety of applications. Norsk floor mats are flexible enough to be used in a variety of multi-purpose applications such as pre-schools and day care centers to basements and workshops.
Norsk 24 sq ft Interlocking Foam Floor Mat, 6-Pack, Purple:
Interlocking 6-piece various color foam mat set endures years of repeated use
Made from 100 percent recycled materials with an anti-slip surface
.47″ thick and measures 24″L by 24″W (for a total of 24 sq ft)
Ideal for use in day cares, play areas, workshops, fitness rooms, camping and pool side areas
Comes with a 2-year limited warranty
reviews
Loved my purchase, thick material, competitive price
When I first got this item, I thought it did not have interlocking edges. (No trim pieces). It does, fits very well. Unable to tell, til package was opened. I am using for blocking crochet blanket. It works great.