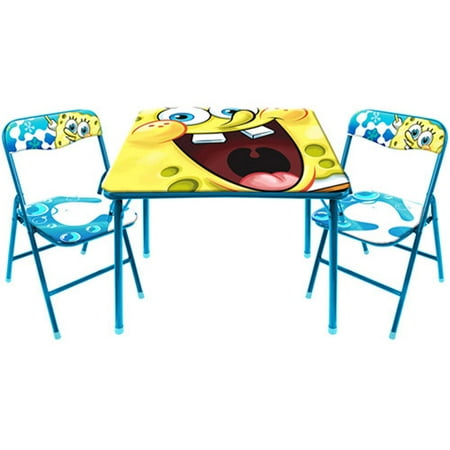 Give your little ones their own place to spend time with this Nickelodeon SpongeBob Activity Table and Chair Set. With bright colors and a stable build, it is a constructive way to keep your children occupied and entertained during study time, meal time or play time. It is also collapsible so that you can store or transport it with ease. The SpongeBob table and chair set also provides some extra seating space for when your kid's friends visit or when you have dinner guests with young children. Little ones will be thrilled with the dazzling and vibrant cartoon characters. This versatile table is also a great choice for classrooms, day cares or anywhere else that learning takes place. Two folding chairs are included with the table. Designed with a washable surface, it is super easy to clean and maintain, so you can be sure that it will stand the test of time.
SpongeBob Activity Table and Chair Set:
The kids' activity table and chair set has a washable surface
Includes two folding chairs
Table measures 24″ x 24″ x 20″
reviews
Decent. Kids love it. Ages 2 & 4. Don't let anything spill and sit, wipe as sticky as possible.
Perfect table for my grandson! Beautiful colors and very made. Love the way it is easily stored when not in use. My daughter is buying one for her house. He snacks, plays and colors on it. He is 2 yrs old. He couldn't be happier. And neither can I.
My little girl is going to love Xmas morming
My grandkids play Play-Doh on it they eat on it sit and watch TV it's a very very cute and sturdy
My granddaughter loves it.
Package arrived with minor damage. Don't think the contents are damaged. Haven't opened it yet as it is a Christmas present for a child. Shipped to store and they should be more careful.
Its durable and bright colors! Easy to wipe clean and perfect size for toddlers! I would def say it was a great buy for him!
I bought my two year old the spongebob bedroom bundle. The table and chair set and the storage bin was not what was pictured. The one in the picture is much cuter. So I'm a little disappointed in this. Please change the picture of your room bundle to what is ACTUALLY included. Other than that, they are great. Easy to assemble and my kid loves it!
It's the perfect size and height for my soon to be two year old. The table will slide a little bit on laminate floors but overall a great product and price.
The product is poorly made for toddlers. I'm very sure that the table and chairs will not last long. We will be probably throwing it away within the next couple of months. It stated that the table was quality made. I disagree wholeheartedly.