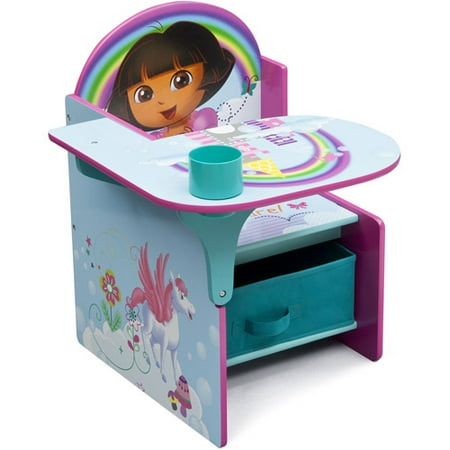 For animated fun, grab a versatile seating option for your little one, like this Nickelodeon Dora Chair Desk with storage from Delta Children. Boasting colorful graphics of Dora and her best friend Boots, it features a removable cup holder for a drink or art supplies and a storage bin underneath, keeping toys or books close at hand.
Nickelodeon Dora Chair Desk:
Age Range: 3-6 years
Made of engineered wood and fabric
Scratch-resistant finish protects the chair's colorful graphics
Dimensions: 18″L x 22.75″W x 23″H
Weight capacity: 50 lbs
Removable cup holder
Fabric storage bin
Sits low to the ground for easy access
Wipe clean with a damp cloth
Assembly required
Meets or exceeds all national safety standards and CPSC regulations
Reviews
I loved this product however one piece of the wood i received was flawed. The holes were larger than they were supposed to me which created a BIG problem. The chair would not stay together so i had to purchase glue in order to hold the chair together. *HEAVY SIGH* Had I not thrown away the box I would've disassembled the chair and returned it. My niece loves the chair
I got this desk for my 2 year old and she loves it. It's the perfect size and she has room to grow. I love the extra storage space under the desk as well.
The desk chair was a present for my daughter from her godmother. My daughter loves Dora and the graphics on the chair are lovely. The chair took 5 minutes to put together and it is durable. I love the extra basket on the bottom of the Dora desk were she can store small toys and coloring books with crayons. It also brings a Cup for juice which fits perfectly in cup holder. I would recommend this desk 100%…
My granddaughter loved it. Actually, I think every child there had to set on it
My 2 year old loves this desk. Easily assembled. Sturdy. Super cute.
My two toddlers love the Dora desk chair. They sit and play with puzzel, watch TV, have snack time. I do have two desk chair so they won't fight.
My wife and I followed the directions given on YouTube and were able to successfully assemble it Don't use the paper instructions!
This is my second Dora Desk. We wore the first one out going through being pulled around the house to seat grandchildren for drawing, reading, eating, watching favorite shows on TV. These are an awesome asset, an add on to the dining room, becomes a "I want to sit by Papaw" chair, a place to begin to learn to make those first letters. The first one was durable, easily cleaned, retained its strength through several grand children. Was my obvious choice just to get another one after several years. Loved this product.
We have this sitting out in the living room for whenever she comes over. She loves it.
Overall the chair was a very good purchase for out God-daughter. She was able to see it for the first time on Christmas day and now looks forward to sitting in it to color and eat her snacks. Although it was not too difficult to assemble the directions and diagrams could sure use a more "user-friendly" overhaul. That was the area that kept me from giving it 5 stars. At any rate I am sure that any 'Dora in training", is sure to get lots of enjoyable play time from this item.
I got this as a Christmas gift for my 20mnth old duaghter and she absolutely loves it! It's sturdy and fairly easy to put together. She uses the desk for everything, which I love! It's easy to clean and it's not an item that is in the way.
Not a stocked item, had it shipped "site to store". When notified of its' arrival, I drove to the store, picked it up, took it home and unpacked it to assemble. UNFORTUNATELY, two of the pieces (the back and right side) were damaged (crushed). I contacted Delta (the manufacturer) about getting replacement parts and they told me to pack it back up drive back to Walmart and order another one. Including the time spent ordering it, driving to the store and back home, unpacking, inventorying and examining all of the parts, sending an emailing Delta then having to call them, repacking it, driving back to Walmart, returning it then driving back home, I have at least 4 or 5 hours invested in this item and absolutely NOTHING to show for it. Any other manufacturer would be happy to ship replacement damaged parts. This is the last Delta product I will ever buy.