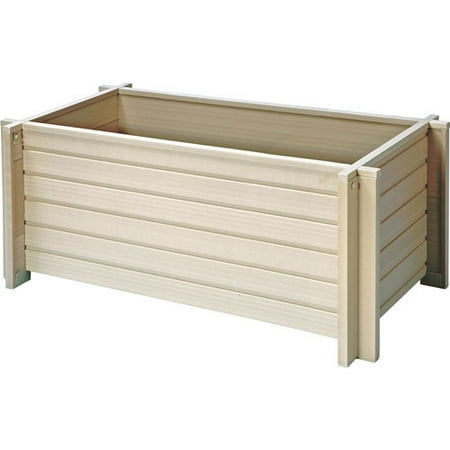 Add a versatile, easy-care planting area to your home with the New Age Pet EcoChoice 42″ Square Planter. The size and convenience make this item an attractive addition to just about any yard or patio. You can even use it on a balcony for a gardening solution in tight spaces. It features the innovative ecoFLEX material, which is a composite of recycled polymers and reclaimed poplar. This material commonly outlasts similar wood planters, making it a long-term addition to your garden. EcoFLEX doesn't splinter or warp, so it can look like new as long as you have it. You can paint or stain this garden planter to match your landscaping design preferences, or leave it as is for a natural look. A proprietary water drainage system allows for thorough absorption and resists water-log to keep your plants healthy. Additionally, the AllProof materials of New Age Pet EcoChoice 42″ Square Planter can easily face any weather conditions with resilience, so you can leave it outdoors all year long. It's also easy care, allowing you to wash it clean with a garden hose. You can assemble this square outdoor planter in about five minutes with no extra tools.

New Age Pet EcoChoice 42″ Square Planter:
Eco-friendly: made using a composite of recycled polymers and reclaimed wood called ecoFLEX
Extremely durable
AllProof for all-weather usage
Made to outlast wooden planters
Assembles in 5 minutes or less with no tools required
Paint or stain garden planter to coordinate with your landscape decor
Proprietary water drainage system
Easy to clean: just spray clean, or wash with detergent as needed
Dimensions: 42″ x 42″ square outdoor planter
Directions
:
Fabric Care Instructions: Follow instructions provided on the tag or packaging.
reviews
I have painted this black myself and it looks great by the front porch next to the sidewalk just what I needed
This is a terrific item! Great value! It was easy to assemble and very sturdy. Going to look wonderful in my yard!
Affordable, attractive, easy to assemble and environmentally friendly. Doesn't get any better than this.
I've been looking for planters ALL OVER the web and stores. I had yet to find one that was convincing enough for me to buy them. I took a chance and bought 3 of them at once. The best purchase I've made. Assembly gets easier with the 2nd one (yes, I didn't read the instructions) but it is pretty straightforward. They are sturdy enough and very well made. I don't have anything negative to say about these planters. I am buying 3 additional ones today.
I now own 3 of these planters. The two that I got over a year ago and that spent the whole time out in the elements look as good as the one I recently purchased. They are sturdy and good looking enough. I would definitely recommend this product. The assembly directions are good, but you do need to read them. It comes well packaged.
Shipped quickly, arrived with no damage. Assembly was very easy. Looking forward to using – as soon as the rain stops!
I ordered 4 of them. the materials were so poorly made like cardboard box the plastic cracked and chipped easily and I have to glue it back. In addition to that, the instruction was so poor and need up figuring out myself. Tami