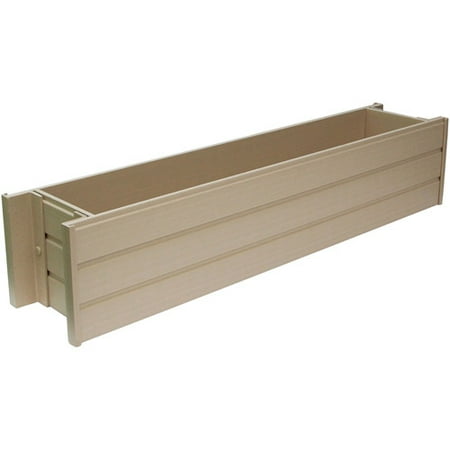 This attractive, durable New Age Pet EcoChoice rectangle planter is a great, eco-friendly item. Made from ecoFLEX, a composite of recycled polymers and reclaimed poplar, it will outlast similar wood planters five to one. EcoFLEX doesn't splinter or warp and can be painted or stained to match your landscaping design preferences. It is AllProof, resisting and barring anything mother nature can throw at it. It is easily assembled in five minutes or less and no tools are required. The New Age Pet EcoChoice rectangle planter is also easy to keep clean; most dirt simply rinses off. Anything that is a little more stubborn can be removed with any common detergent and water.
New Age Pet EcoChoice 36″ Rectangle Window Box:
Attractive planters that have the look of wood but last a lot longer
Eco-friendly: made using a composite of recycled polymers and reclaimed wood called ecoFLEX
Extremely durable and AllProof, the wooden window box will outlast wood houses 2 to 1
Assembles in 5 minutes or less with no tools required
Can be painted or stained to coordinate with your landscape decor
The 36″ planter box has a proprietary water drainage system
Directions
:
Fabric Care Instructions: Follow instructions provided on the tag or packaging.
reviews
I ordered four of the above window boxes and the quality of the product was superior. The material was very strong and sturdy. They were very easy to put together and a breeze to paint.. I would highly recommend them to all!
Received the window boxes and couldn't be happier. After shopping round, these boxes are a good bargain. Arrived quickly, very easy to assemble. They are paintable, and I will be painting them. They have drainage holes. Very sturdy. No need to spend hundreds on wooden boxes that will deteriorate.
I took pictures of all the corners that were broken during shipping. The ends of the planters were not adequately protected, no foam or padding. The company responded with a promise to ship replacement parts in three days. Still waiting ten days later.