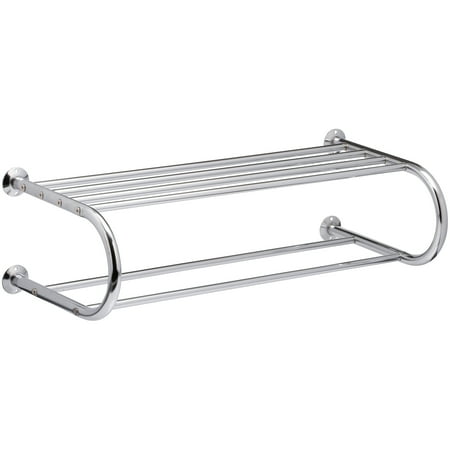 Decorate your home's bathroom with this elegant and practical Mounting Shelf With Towel Rack from Neu Home. It's modern, sleek, chromed metal design is sure to fit in with the decor of any bathroom, and features a large top shelf for folded towels or other bathroom accessories, as well as two lower towel bars underneath for added functionality. It measures 26″ x 11.25″ x 7.75″ and is easy to assemble, so anyone can install it in their home's bathroom. Add one to your bathroom today to add a fresh accent that will improve the look and feel of your home.
Made from durable, sturdy metal frame that will last
Chrome finish to add a sleek touch to your bathroom's decor
Easy to assemble and install in any bathroom
Modern, sleek, timeless design is sure to fit the decor of any home
Large top shelf can fit a wide variety of your towels or bath accessories for easy access in the morning
Add a modern accent to your home
reviews
the one that we install look good and is practical for use. Also simple to assembly. I got the towels well organized. I order two, for each bathroom but for one of them, the measurements were smaller. I need to find if they have a smaller one in a way to return this one.
Our new construction home left no place for a towel bar in our master bath. This towel bar and shelf gave us the solution we needed. We had the same problem with our last home. We used this same towel bar and shelf there also.
Great item for the price! Easily assembled and mounted on the wall.
We love our towel rack. It works really well in a small bathroom. We can now hang up 2 towels and store extras on the shelf.
It is as shown on the picture. A very functional towel rack. Shipping and pick up at Canada Post was quick and easy. Wish there was a discount on this product at the time though.
Just what I was looking for- sturdy, modern towel rack to hold extra towels for our guests. It holds four full-size tightly rolled towels on top without stacking. I was able to install it myself but a drill is necessary for installation as the drywall nail supports need a 1/4 inch drill bit hole. From opening the box to finished mounting, it took me a half an hour.
I have a smaller home and needed more space. This works great for a towel rack and I hang my light clothes to dry.
Using this towel rack in a small space allows me to store items on top that otherwise would not be able to be readily available in the bathroom like Kleenex The bars provide ample space between the towels so they aren't touching each other Sturdy rack and looks nice in the newly renovated small bathroom
The rack came disassembled had to put it together which took all of 5 minutes and to hang it took about 10minutes just to get things straight and aligned and I'm very pleased with how my bathroom looks it gave it life. Very happy with it!
Rack was not square, the end arms were bent so the bars did not line up level, returning the rack for credit, do not want to try another one and waist more time.