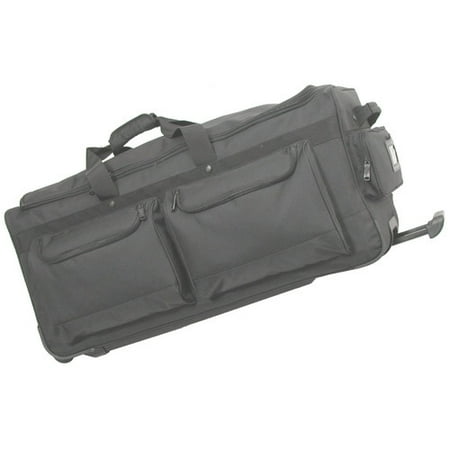 Features: -Moisture resistant laminated vinyl. -Easy to pack and elegant design. -Heavy-duty telescopic handle and four riveted grab handles. -X stitch reinforced padded handle wrap. -U-zipper top opening makes packing and unpacking fast and convenient. -Heavy-duty 10 nylon coil zipper with lockable slider. Exterior Color: -Black. Exterior Material: -Polyester. Dimensions: Overall Height – Top to Bottom: -40″. Overall Width – Side to Side: -15″. Overall Depth – Front to Back: -16″. Overall Product Weight: -11 lbs. NPA1336
Features
Moisture resistant laminated vinyl
Easy to pack and elegant design
Heavy-duty telescopic handle and four riveted grab handles
X stitch reinforced padded handle wrap
U-zipper top opening makes packing and unpacking fast and convenient
Heavy-duty 10 nylon coil zipper with lockable slider
Exterior Color: Black
Exterior Material: Polyester
Dimensions
Overall Height – Top to Bottom: 40″
Overall Width – Side to Side: 15″
Overall Depth – Front to Back: 16″
Overall Product Weight: 11 lbs
reviews
Length is longer than most duffel bags… just what I wanted.
I found during my travels that my 27″ bag was too small for my quarterly trips west & south so i search for a large rolling duffel bag & found this one. Except for a slightly late delivery, 3 days, i have found this bag to be exactly what i need. The price fit my budget. May be too large for some airlines free guidelines, but its worth the price. Would definitely recommend this bag for the person who needs this size. je
This is being used to transport donated musical instruments in their own cases, inside the bag to Haiti. It fits a LOT of instruments, and they are secure inside. Plus it has extra pockets for smaller items. Very happy with this item!