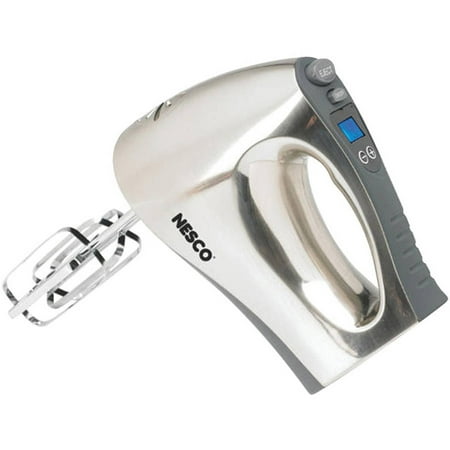 Mashed potatoes have never been easier than with the Nesco Hm-350 Hand Mixer. It features digital controls and is simple to use when preparing a variety of foods. It operates at a power of 350W and has 16 different speeds to suit your needs. This kitchen hand mixer also has stainless steel turbo beaters with a center post. Its built-in timer always lets you know when it's time to stop.
Nesco Hm-350 Hand Mixer:
Digital controls
16 speeds
Built-in timer
350W
Stainless steel turbo beaters with center post
Ideal for mixing various foods
Nesco hand mixer is easy to use
reviews
Love the slow start! Love the built in timer! I bought this his mixer because it had the wide flat beaters instead of the skinny wire ones that seem to come standard with most mixers. So far I've only used it once but I love it!
Bought this as a gift and she is very pleased with it. Happy Wife…Happy Life 🙂
Inherited Moms 50's era stand mixer, which still works but weighs about as much as a Mini Coop. Been through countless cheapo discardables sold as mixers, saw this on sale and took the plunge. Good idea, this unit performs. Smooth, powerful, 16 speeds, imo well worth regular price, a steal at 30 something bucks.
I love the fact that I can now know how long I have run the mixer, and the digital display is great.
It might not matter to you but,I bought this because it says stainless steel beaters. They are chrome and I don't want to have that metal taste that comes from chrome yuck! Had to return them. Why they say they are stainless I don't know??? On the box it states chrome!