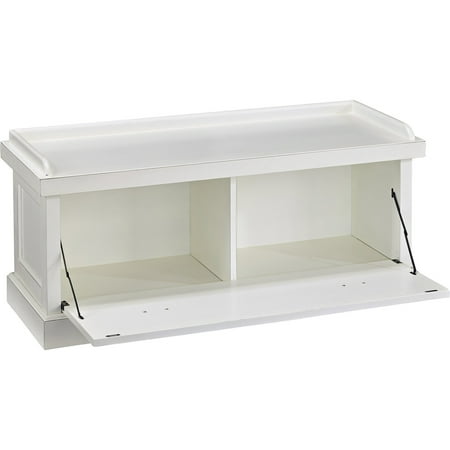 Update the look of your room with the Nantucket Distressed White Upholstered Bench. It provides a cozy and inviting place to rest, whether you place it in your entryway, den or bedroom. You can enhance the atmosphere in your home and give yourself extra space for storage as well. Its sanded, worn edges and distressed white finish provide the casual elegance that's ideal for a variety of home decor styles. The upholstered storage bench is created by Home Styles. Constructed of strong, durable poplar solids, it is sure to last. The finishing process includes paint specking on the sanded and distressed white bench, giving it that "shabby chic" look that is so popular. The storage includes two separate bins in a drop-down cabinet. You can enjoy the increased organization in your home as well as the attractive furnishings. The cover is easy-care microfiber fabric. It also features stylish brushed-nickel hardware.
Nantucket Distressed White Upholstered Bench:
Drop-down cabinet with 2 storage bins
Ultra-suede removable and reversible cushion with microfiber cover
Sanded and distressed finish
Antiqued brushed nickel hardware
Size: 47-1/4″ x 18″ x 21″
Upholstered storage bench requires assembly
reviews
The packaging of the product was satisfactory. Every piece of the bench seemed maintained except for the front closure. The closure for the storage had a few dings around the edges that are noticeable. However, it did not take away from the elegant style of the bench. Putting the bench together was straight forward and took about 40 minutes. Although mainly used for storage, this bench does provide the necessary extra seating I was searching for. Also, the seating cushion is easily cleaned due to its removable cover. Overall, a lovely addition to our living room.
The product is great and functions well if the wood blend material would hold the screw/fasteners securely. The hinges kept disconnecting on the swinging door so I had to replace the fasteners with a beefier screw.
The bench will be used to store picnic items such as plate, bowls, platters, etc. as it is out on our sunroom.
I love it, perfect for my tiny hallway and only took my son around 15 minutes to put together. We always go by every step in the directions and it went smoothly.
Arrived quickly and was packed very carefully. Each piece was individually wrapped and the entire item was surrounded in styrofoam packing. Easy to assemble, took my husband and me about 45 minutes to put together. Instructions were clear and very easy to follow. Extra screws were even provided and included in the printed parts list. It's a creamy white with a bit of distressing and looks very nice in the hall.The only reason I didn't give it five stars was due to damage done by the manufacturer. A piece of the base, inside and not easily visible unless opened, was broken off due to an improperly set dowel that was too deeply set. My husband chiseled out the inside dowel part and I reglued the broken off piece of wood to prevent getting splinters. To their credit, when I called Hayneedle to inform them of the defect, I was offered options. A full return, a replacement, or a small credit due to the damage. Their customer service is always great. The piece gets 4 stars but Hayneedle customer support gets 5!
The bench was delivered very quickly. All parts were available and it was a sintch to assembly (did it before my wife realized I was doing it) it fit perfectly in our mud room.its says distressed but it isn't, not a deal breaker, but I was expecting it to be made completely of wood not that process cardboard. It also was broke in 2 places but since it was hidden bi didn't send it back .
This bench requires more than average assembly. The door hinges were not labeled so of course I put the wrong one even though I tried to determine which was the right and left hinge. I was able to switch them after understanding how they were supposed to work. Everything did fit well and feels very study after assembly. One other small complaint is that the web site indicated the color was white when it was actually cream.
The bench looks beautiful and when we put it together I was very happy with it. Within three days one of the hinges broke. There is no way to fix it and we had to return the bench.