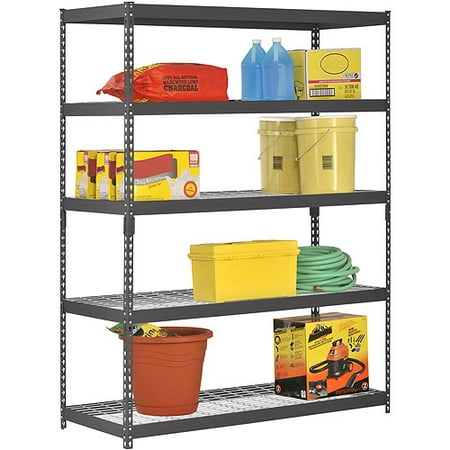 Create more storage space with the Muscle Rack 60″W x 24″D x 78″H Five-Shelf Heavy-Duty Steel Shelving Unit. It features a versatile design that can be assembled horizontally or vertically. This black Sandusky Lee shelving unit features five steel shelves that are adjustable so you can create a customized storage space. The durable steel construction can support loads up to 4,000 lbs. It is ideal to use in a garage, shed or basement for storing tools and garden accessories. The open design allows for easy access from all sides.
Muscle Rack 60″W x 24″D x 78″H Five-Shelf Heavy-Duty Steel Shelving Unit, Black:
5 shelves
Muscle Rack shelving unit can be assembled horizontally or vertically
Steel shelves adjust every 1.5″
Create a customized storage space
Durable steel construction
Supports loads up to 4,000 lbs
1-year warranty
Dimensions: 24″L x 60″W x 78″H
Model# TRK-602478W5
Open design for easy access
Sturdy frame provides maximum support
Ideal for tools and garden accessories
reviews
great way to get everything off of floor and out of the way,, went together in 15 minutes,, no screws,, just rubber mallet to fit pieces together. it was heavy getting down stairs to basement,, were in our 60's,, but great shelf,, i couldn't build one out of wood as cheap and nice as this.
I am excited about these shelves and would definitely recommend them!!!
I bought this muscle 5 shelve unit & I am so happy I did. I wanted the 60 in wide unit because I measured the space where I have it in my garage and I can store my lawnmower or snowblower next to it perfectly. Depending on the season.
Sturdy and easy to set up. Works perfectly for our needs.
Received box with some damage. I was not home when it was delivered. I opened it up and found no instructions. No problem (sort of) so I went online and typed in the model number and "instructions". Found the instrunctions online, printed, and started assembly. A couple of tips include making sure the inside railings or "lips" are positioned lower on the rails. Use a rubber mallet to get everything locked in. And then . . . I was missing a side rail. Ugh. Called the number I found online for missing parts. They are sending in 5-10 working days. Follow the advice of the post further below . . . check delivery. Other than that, this would be a 5 star review. They just need to fix their shipping/packaging.
I really like this shelving unit. It was very easy to put together and is very sturdy. I like the wire shelves. I have purchased units with wood shelves and the wood shelves typically start to bow. I have not had that problem with the wire shelves.
I will be very lucky if all the pieces are in the box when I go to assemble this. The packaging is substandard given the overall weight of the pieces. It was torn and open when FedEx delivered it (and as usual they drop it at the door and run away as fast as they can). This manufacturer needs to redesign their corrugated packaging so that the heavy contents don't tear the carton during shipping.