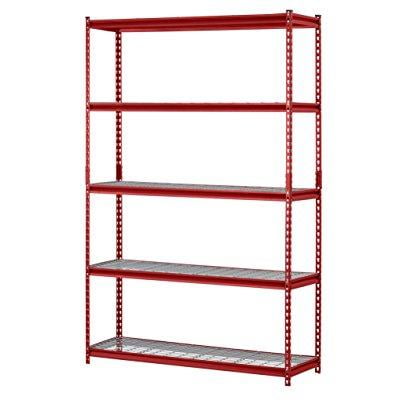 The ultra-tough Muscle Rack 5-Shelf Steel Garage Storage Wire Shelving Unit is made of industrial-grade steel with Z-beams for strength and rigidity. Its power-coated red finish is stylish and durable. It holds up to 4,000 pounds total, or 800 pounds on each shelf. Five shelves with wire decking can be adjusted in 1.5-inch increments for customized storage space. This shelving unit assembles in minutes with no nuts or bolts. Set it up as a vertical shelving unit or horizontal as a workbench.
SN1656
Features
Red powder coat finish
Z-beam design for strength
Made in the USA
Country of Manufacture: United States
Weight Capacity: 4000 Pounds
Color: Red
Commercial Use: Yes
Shelf Material: Wire
Frame Material: Metal
Product Type: Shelving Unit
Number Of Shelves: 5
Adjustable Shelves: Yes
Dimensions
Overall Height – Top to Bottom: 72″
Overall Width – Side to Side: 48″
Overall Depth – Front to Back: 18″
Overall Product Weight: 54 lbs
reviews
Got 2 of these shelves for the garage. Easy set up with a rubber mallet and does the job. 4 star because the wire shelves are not as heavy as I hoped. I like open grid shelves so I can see what is there and don't accumulate a lot of dust or bugs.
This Muscle Rack 5-Shelf Steel Garage Storage Shelving Unit is a must! The beautiful red color will brighten up any room. There is plenty of space to store many items on the wire shelves. I would have given it 5 stars but one of welded pins was missing from the small arm bracket. Hayneedle's excellent customer service sent out the replacement part in a timely manner. Overall, reasonably priced, great color and plenty of storage space.
These shelves are amazing! Shipped to store. Assembled easily. Construction is easy. But use a rubber mallet. They have them at the 99 cent store. I used it for boxes of trading cards and other supplies. Works great. Red paint job is great looking too. Love it
Put the rack together yesterday with ease. Using it in my garage. Bought it at a good price.
My brother in law and I put 4 of these together in 1 hour. Very easy, but you have to use a rubber mallet or a hammer with a piece of wood to protect the paint as you pound the rails into the frame. Some of the pieces with lots of paint on them were rather snug, but that means they'll stay together well. If you don't push all the rails all the way down into the slots, the whole unit can appear twisted. This is fixed by finding the rails you did not get completely in, and pounding them in better. The red color is really attractive, as so much on the market is boring gray or chrome colored. Works well on concrete floor, but you might want to put protectors under the feet if using indoors or on a tiled garage floor. The 18″ depth works well for us, as the 24″ depth would not allow us to get two cars in our garage with room to open the doors.
Sturdy, went together relatively well, steel shelves superior to pressboard models by this manufactuer that tend to bow in middle, these are holding considerable weight easily. Would purchase again as they are a good bargain for the price
Found the shelving easy to put together with little trouble (except for putting corner pieces upside down – duh). However, would like to have had a little less space between the wires of the shelves. I've had to put cardboard on some of the shelves to keep smaller items from falling through.
First, you must have a rubber mallet to assemble this. Second, The shelves fall through. The claim is that each shelf can hold 800 lbs. This is absolutely false. Any weight causes the length beams to spread so that the wire shelf falls through the middle. They should have put a support beam across the middle of each shelf under each wire shelf. The fix? I don't know. If you don't need the shelves to hold any weight (I have about 2 feet of hardcover books on each), then perhaps zip ties would work. Otherwise, perhaps replacing each wire shelf with a hardwood or perhaps welding the shelves in place. Disappointed.