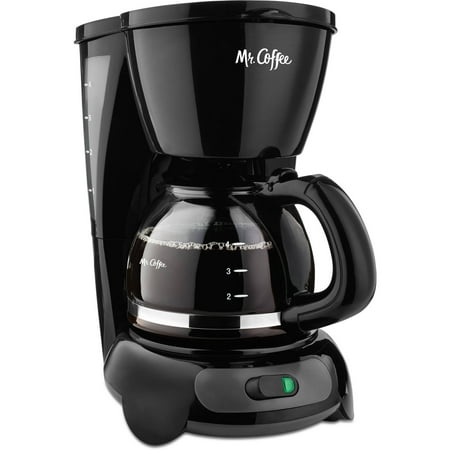 When a small pot is all you need for making coffee, this Mr. Coffee Simple Brew 4-Cup Switch Coffee Maker brews up ideal coffee flavor in just minutes. With the Pause 'N Serve feature you can pour a cup while it is still brewing by stopping the cycle momentarily and you can remove the filter basket for easy cleaning. This kitchen coffee maker, TF series, also has a dual-water window to monitor filling capacity and has a convenient on/off indicator. It comes in an ideal size without taking up a lot of counter space and is simple to use. Just set it up, turn it on and begin to brew.
Mr. Coffee Simple Brew 4-Cup Switch Coffee Maker TF Series:
Brews 4 cups of hot, fresh coffee
Pause 'N Serve feature
Removable filter basket for easy cleaning
Dual water window to monitor filling capacity
On/off indicator
1-year warranty
Dimensions: 7.1″L x 8.9″W x 11″H
Available in various colors
Directions:
Instructions: For household use only.
reviews
My other 4 cup coffee maker was dying so I bought this Mr Coffee Use it for brewing coffee and tea and does good job for both.
Love the small compact size for my small compact kitchen !
I had purchased this model years ago and depended on it daily. That is until I broke the pot. No way to simply replace the pot so I purchased a new machine. The other was white. This one is black. I like the fact that black does not stain. A simple coffee maker for a simple early breakfast cup. one problem: the switch is very sensitive and it is easy to put it on by mistake. I am always careful to unplug mine after use.
I recently purchased the 4 cup Mr Coffee. It is beautiful on the kitchen counter and just the right size for me. It arrived in perfect condition and hasn't missed providing that first 'cup' every morning since. Makes perfect coffee and quickly, too. For anyone who takes their morning coffee seriously, and needs only a cup or two to get the day going, this is the Mr Coffee for you. Try it, you won't be disappointed.
Luv my 4 cup Mr. Coffee Maker. Small enough not to clutter counter top and enough coffee to get the day started. My first 4 cupper lasted 14 years. Thanks for making this product available.
We love this machine. Makes great coffee. Two large cups!!!
I bought this a week ago and received it 3 days ago. The minute I opened the box I knew the pot would not hold 4 cups. There are 8 ounces in a cup, not 5 ounces, everyone in the world knows that except Mr. Coffee. When I order a 4 cup coffee maker I expect it to make 4 8oz. cups of coffee. This coffee maker only makes 2 and a half cups. 5 OUNCES IS NOT A CUP !!!!!!!!!!!!!!!!!!!!!!!!!!!!!!!!! I will never buy any Mr. Coffee product again.