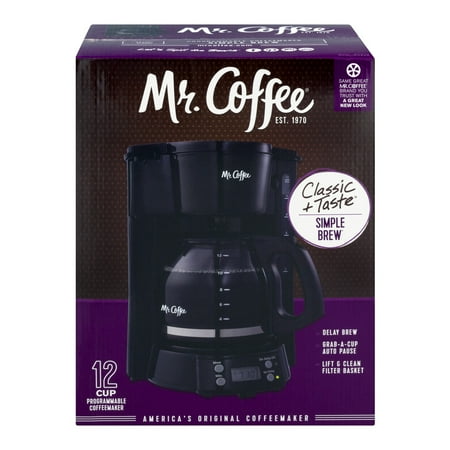 Mr. Coffee 12 Cup Programmable Coffeemaker. America's original coffeemaker. This model is designed for the straight-up, no-bones-about-it coffee drinker. It has a dual water window for no overflows. Swing out filter basket for easy access. 2-Hour auto shut-off automatically turns off coffeemaker so you don't have to.
Mr. Coffee 12-Cup Programmable Coffee Maker, BVMC-EVX23:
2-hour auto shut-off feature
Programmable clock/timer
Water window shows amount of water in the reservoir letting you know when it needs refilling
Brewing Pause 'N Serve feature
This black timer coffee maker comes with a 1-year warranty
Dimensions: 10.79″L x 8.86″W x 12.4″H
Model# BVMC-EVX23
reviews
This coffee maker is great for the price and if this is the kind you use. It is a little taller than I expected, I should have taken a look at the dimensions.
Works great but the coffee ground holder is not what I expected. It does not remove like the one in most of the Mr. Coffee pots, the whole top front comes off instead of a lift out ground holder. The lift out ground holder is what I needed to replace one on a more expensive Mr. Coffee I have because the spring broke on that one and the part is not available anywhere on the internet that I can find.
We're very happy with this unit. It has all the features that we want…and at a really great price! The fast shipping to our door was great too!
Worked right out of the box, price was reasonable, had for a while now. It is cheaply made, but for the price, you can't beat it.
I say it's not too fancy, because I have had fancy, and there really isn't much difference between the two. This coffee maker is a good buy. It has all I need and will not confuse me with so many buttons to press. Easy-breezy…
Makes coffee fine, but it's difficult to remove filter holder and change the filter. This one had two small plastic pins that held the filter basket in, and they were difficult to line up to put the filter holder back in. The older Mr. Coffee we had for years was much easier and better. I would have been willing to pay more, if the filter changed like the older models.
This LOOKED like an exact replacement for a Mr. Coffee that I've had for years and really liked. However, they changed the design so that the coffee filter basket is absolutely ridiculous to remove, empty and clean. It swings out but then there's 2 small top and bottom clips (which I could tell would soon break) that hold the basket in place while swinging out. These make it very difficult to remove the filter basket and even more difficult to put back in! The model I had did not swing out, just open the top & easily pull the filter basket up & out. No worries about clips, clips breaking, difficulty getting the basket in or out, no collapsing soggy filters full of grounds making a mess, no broken fingernails. This item will be returned.