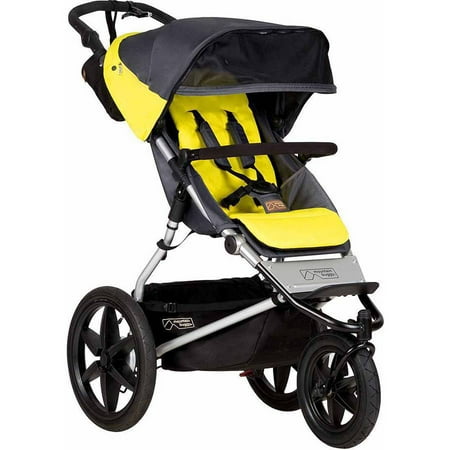 Terrain is the ultimate, premium jogger that delivers ultimate performance to families who really want to get active on and off road. With its strong aesthetics and precision world-class engineering, Terrain is specifically designed for active parents who want flexibility in a stroller. Water-resistant fabrics make cleaning up from the trail easier than ever. A peek-a-boo flap lets you silently check on your child. A hand-operated brake makes it easy to slow down, while the foot brake brings you to a complete stop. The front wheel has three modes: lock forward or lock back for jogging and full swivel for maneuvering around town. An intuitive 5-point buckle with tail-free harness is attached to a full-size seat with reversible liners and a retractable leg extension for little legs. With storage galore, Terrain has pockets on the hood, two bottle holders, pockets inside the seat and a gear tray that holds up to 22 pounds. Terrain can become a travel system with the use of clip adapters.
Mountain Buggy 2015 Terrain Jogging Stroller:
Stroller is designed for a child up to 55 lbs
5-point safety harness
Water-resistant sun canopy has zippered storage pockets with headphone port
Peek-a-boo flap
Gear basket with zip top and storage pockets
2 bottle holders
Compatible with Carrycot Plus and infant car seats from Mountain Buggy, phil&teds, Graco, Peg Perego, Maxi Cosi, Cybex and Chicco (all sold separately)
Includes 16″ and 12″ rear air-filled tires
12″ locking swivel front wheel
Handlebar adjusts from 36.5″ to 48.5″ high
Hand and foot brakes
1-hand fold with automatic frame lock
Weight: 28 lbs
Aluminum frame
Reviews
I haven't used it with my baby because we got it a month before she is due. However, just using it around the house and comparing it to other high end running strollers, I would say this is built WAY better. Very sturdy and well made. I think I made the best choice!
Lots of research went into choosing the Mountain Terrain Buggy as it was a gift from, me, Granma, to my newborn Grandson and his parents, and I wanted to get it right! I did, in leaps and bounds. The buggy is everything it was rated to be and more. Living in rugged terrain with bumpy, rocky tracks to traverse and sandy beaches along which to jog, it has proved to be capable of mastering all. Baby is so content,snuggled in the sleeping bag, and safely ensconced in the carrycot. And off they go. Mom and Dad are delighted and I am basking in the glory of a choice well made. Packing the buggy into the car, setting it up to go shopping, or even taking it into a restaurant for a meal are all so easy. It has incredible manouevering capabilities, can just about turn on a dime , and all the features, such as the adjustable handle, the two sizes of wheels, make it so versatile for all situations. Moreover, from carrycot at infancy, it will progress for years to come as the buggy, and will undoubtedly give my grandson years of fun being pushed along by his parents, as well I know. Thank you, Mountain Buggy!
I bought this a little while ago and had to wait 3-4 weeks for it to come back into stock. The staff were relatively good about letting me know when delivery would be. I bought it after having a city mini 3 wheeler and then a lightweight Mark 2 maclaren as my 20 month old son was nearing the 15kg weight limit (he's 98th percentile!) for the maclaren and I hated the city mini (husbands choice!). I wanted something that would be my final buggy so the 25kg weight limit of the terrain was very attractive. I do quite a bit of hiking on holidays (at the ehrwalder alm bahn in ehrwald, Austria I borrowed one from the lift station courtesy of the lift owner Herr Denk and it was brilliant) and enjoy going for long walks at home so the big wheels are great. I've had one puncture so far (a big thorn!) which was partly my fault as I think I'd let the tyres go a bit flat. The easy fold mechanism is great and amazingly it does fit in my small Toyota Yaris car boot without having to take the wheels off! It is very manoeuvrable and the wheels are easy to change over. My son can push the bumper bar off quite easily so I've had to use a couple of Velcro ties to keep it in place. I also think the harness is quite small – especially the waist rather than the shoulders. I did find it difficult to do up when he had a thick winter coat on. Not sure how I'll increase the harness size and my son is quite slim, just tall! I also think the harness could do with a bit more padding to make it more comfortable. All that being said, it is a great buggy, I wish I'd had it right from the start, would have been a good investment! I believe the 2nd resale value is pretty good too!
Been sooo happy about my MB Terrain! I used it on the beach, int he woods, in the snow, it is fantastic! I am very active and I cannot be happier about this jogging / sporty stroller!!! My baby loves it, and it is so easy to push and maneuver! Also very easy to fold! I just love love love it!
I bought this stroller after looking at a number of other high end strollers and still rave about it. It is light, collapses easily, steers unbelievably well and is very comfortable for the kids. It has been on airplanes and boats, been hiking in northern terrain, been shopping in crazy malls at the holidays, and been part of a daily commute in a metropolitan city. It has never let me down. Easily carried down metro stairs when the lift was out of service. Easy to push through snow. I also bought the sleeping bag that fits in and have used it in the stroller for our winter commutes and out of the stroller when camping. Love this stroller.
I had heard great things about Mountain Buggy prams and have been really disappointed with the Terrain Stroller which I purchased new in September 2016. It was great to begin with but within 6 months the sun shade was bent from general wear and tear, both large running wheels had blown out (which require re-purchase) as had the smaller wheels (both also required re-purchasing). I do run and walk a lot but that is why I bought the terrain! The new tires that arrived don't sit flush (there is some internal rubbing which I haven't quite got to the bottom of) which seems to be just generally poor manufacturing. I believe Mountain Buggy used to be top quality and I thought this product would definitely see me through two kids but it will barely even get me though my first one! Something seems to be going very wrong as I received a poor quality pram for an expensive price.