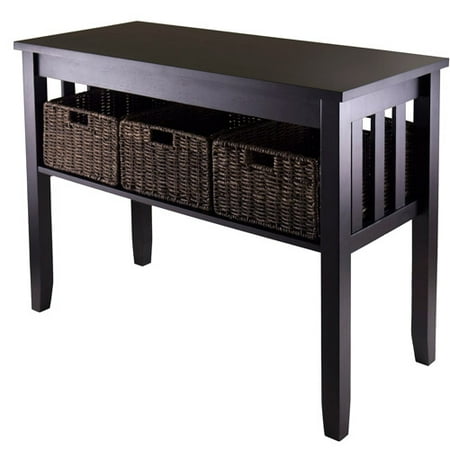 The Morris Collection has perfect tables with plenty of storage.
Morris Console Table with 3 Baskets, Espresso:
Plenty of storage
Dimensions: 40″W x 18.11″D x 29.92″H
1 sections opening 35.28″W x 16.77″D x 9.84″H
3 foldable baskets made from corn husks
Basket dimensions: 16″W x 11″D x 7″H
Made from solid and composite wood
Assembly required
60-day warranty
Model# 92452
reviews
I love it!!! It's perfect for storage and it doesn't take up a lot of room while still looking elegant!♡
I bought this with the matching side table even after reading reviews where people received the product damaged. Luckily mine came in perfect condition and is perfect! It is sturdy (you put it together with dowels so I added gorilla glue in the holes to keep the dowels in place). I have gotten many compliments on it. It is a very dark color, almost black, which didn't match one other piece of furniture I already had that was also "espresso". (Different brand and the one I had wasn't as dark). Baskets are a great size and look awesome. Easy assembly.
Love this table. Went together easy. It's a little more black than espresso.
Process is a breeze! Easy and friendly pickup, out of the box in great shape and easy to put together. Honestly, I was a little hesitant to order due to some negative reviews. I decided to go for it knowing I could return if necessary. The product is great looking and sturdy! I'm most likely going to buy another one. Very pleased!!
The picture and description were true and factual. I could use another one in the kitchen.
The console looks beautiful, the only problem is its a bit wobbly but I may not have tightened the screws enough. I was amazed at how much the baskets hold. The only problem with this product are the tiny bits of Styrofoam that are stuck to everything upon opening the box. Have a vacuum ready!
This piece fit perfectly where we wanted it. It arrived quickly and was easy to assemble. I put some pads on the baskets so they would not scratch the shelf.
Awkward to assemble. Followed instructions to the T and it is very wobbly. The inside of the package came covered with all kinds of styrofoam packing material that was stuck to the pieces becasue they were still oiled. It was like they applied some kind of furniture polish before shipping and the residue acted like a magnet to the wood. The only positive thing I can say is that it is wood. The screws are situated in such a way that you better get a hand massage after. The location makes it VERY hard to tighten the screws. Then once we finished the thing was about as sturdy as a piece of straw. It shakes terrible with the slightest movement and feels like it's going to collapse.