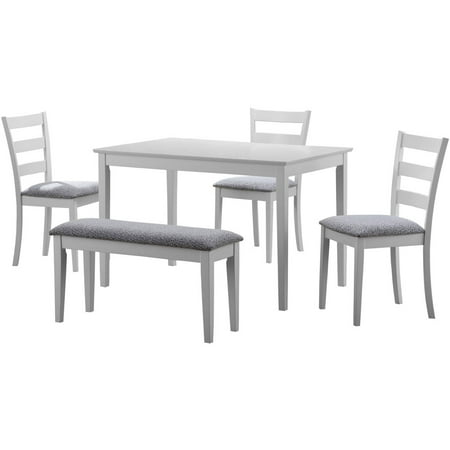 This casual dining set is the perfect solution for small kitchens or dining spaces. The sleek rectangular dining table features tapered square legs that adds a modern appeal. The side chairs have horizontal curved back slats and are upholstered in a padded two tone white and black fabric print. Not only is the bench ideal for small spaces, it completes the unique and trendy look of this dining ensemble. Finished in a crisp white, this cool contemporary five-piece dinning set is a great addition to any house, condo, or apartment.
Monarch Dining Set, 5-Piece Set , Multiple Colors:
Perfect solution for small kitchens or dining spaces
Seats upholstered in a comfortably padded white and black soft textured material
Ladder back design with sleek tapered legs
5 pieces set sold together
Table: 48″L x 30″W x 30″H, Chair: 18″L x 20″W x 35″H, Bench: 36.25″L x 12.25″W x 19″H
reviews
So far so good! Great for my space but don't know how long it will last 🙂
This is a lightweight kitchen set. Probably wouldn't hold up for continued or daily use, but for just two of us using it occasionally I think it is a good value.
This table looks very nice in my kitchen. It was very easy to assemble. I am very pleased with my purchase.
We got this before the guaranteed date, but when we assembled it, one of the bench legs was 16″ and the other three were 17″… very frustrating. However I submitted a ticket online and the next day they confirmed they would ship the correct part. They fixed their mistake quickly so it really wasn't a big deal. Other than that we love this item and would use them again.
I bought this for our kitchen..although it's a bit small ,it's perfect for the space..We have a bigger one in the dining room for suppers and company. I would recommend for smaller spaces or a small family, not as your main set.
Got this delivered 2 days ago. Very easy to set up, and has a wonderful finish. Very, very happy with the purchase
The only problem with this product was that the chairs were really awkward to put together, otherwise it's a great set. Nice and sturdy, and a great fit for our smaller seating area. The shipping, however, was not great. The estimated delivery date was June 25. It still wasn't here on June 27, so I called and the shipper told me it would be delivered sometime that day, after 1;00. I had to go out at 4:00, and came home to find it at the front door, with the box full of holes…a real mess. I was surprised to find that there had been no damage done.
Not anything like expected. They should probably mention that this is almost a child size dining room set. The chairs barely come off the floor, you might as well just pull up a pillow and build an on the ground dining room set. This is something you would put in your dining room … for children to sit at. This is NOT standard size. This is NOT a standard counter top height whatsoever.