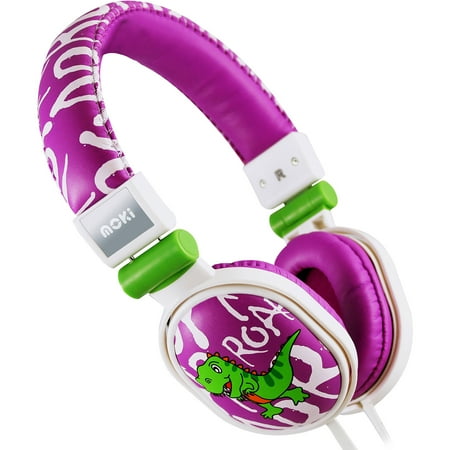 Moki Poppers feature DJ-style swivel ear cups that adjust to any size and are suitable for use with all 3.5mm audio devices.
Moki Popper Headphones:
Ideal for those who want to listen to music or play games with their own style
Suitable for use with all 3.5mm audio devices
Great sound quality
DJ-style swivel ear cups adjust to any size
Design: Dinosaur Purple
reviews
These sound great. Better than cd player alone. Definately would buy again.
Got this for my four year who is the size of a six year old, but they are too big. Needles to say, mother and child are frustrated.
Granddaughter really likes this Christmas present – just what she wanted
My 6 yr old loves them, blocks out background noise pretty good and fits perfectly.
The fit and comfort are great however we ordered these for our 12 yr old and the sound is so low that you strain to hear through the headphones. We did return them for a different set
Head piece fits her smaller head and ears perfectly.
Purchased for my 5 year old to use in his kindergarten class. He loved the cool design and they fit his head perfectly.
These were perfect for my 11 year old. I had also bought a pair for my 7 year old as well. However, 2 months after having them the sound started to have a sort of robotic feedback. Some songs would only play background vocals and not the main singer. Disappointed because she really liked the design on the outside.