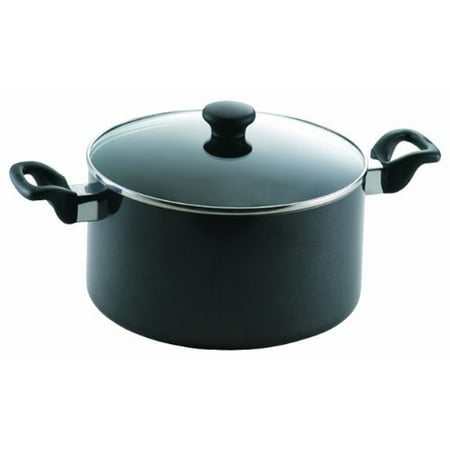 The Mirro Get a Grip 6-Quart Stock Pot is the ideal kitchen accessory for those who love to cook stews, soups or chili. It features aluminum construction which allows for fast and even cooking. The non-stick stock pot features silicone soft-grip handles that stay cool to the touch for a secure, comfortable and confident grip. Food releases from the pot effortlessly thanks to the non-stick surface. This black stock pot with lid is dishwasher safe and oven safe up to 350 degrees Fahrenheit. The pot includes tempered-glass covers with large cool-touch knobs. This item is safe for all cooking methods except for induction.
This Mirro Get-A-Grip 6 Quart Covered Stockpot is perfect for preparing hearty dishes. Sturdy aluminum construction to last and quality nonstick inside and out for easy cooking and quick cleanup. Ergonomically designed handles provide a safe and comfortable grip. Base delivers even heating. Glass lids for convenient monitoring. Covered by a 10-year Limited Guarantee.
Warnings:
California Proposition 65 Warning: WARNING: This product contains chemicals known to the State of California to cause cancer and/or birth defects or other reproductive harm
Directions:
Instructions: Directions for Care: Wash in hot suds before using the first time. Rinse and dry thoroughly. Pre-condition by wiping a small amount of salad oil on surface. To prevent warping and minimize staining, do not use over high heat. Use range unit with diameter similar to that of pan. Avoid sudden temperature changes such as running water into a hot pan. Do not use under an oven broiler unit. Dishwasher cleaning is safe, however it is not recommended, as a regular exposure to the concentrated dishwasher detergent will dull some exterior finishes and reduce the effectiveness of the nonstick interiors. Glass Cover Care and Use – Caution: Failure to follow these instructions could case immediate breakage or breakage at a later date. Avoid impact and severe temperature changes. Do not place glass cover directly on top of heating element, under the broiler or browning element. Do not use harsh cleaning products which can scratch or weaken the glass. Do not use if chipped or cracked. Do not handle a hot cover with wet cloth or plate on a wet surface. Phenolic handles are oven safe to 350 degrees F. The oven should be completely preheated before placing pan in oven. Wooden handles are not to be used in an oven or dishwasher, or placed over a hot burner. On a gas range, flame should not extend up and around sides of pan.
Fabric Care Instructions: See instruction manual
reviews
This 6 Quart Stockpot is exactly what I wanted. It makes excellent soup and stews.
Already tried 6-7 times and fine; we've had "Non-Stick" that really were not. So far we've made lots of very fluffy scrambled eggs for company; and they were great. Also boiled big-batch pasta/and made chicken soup: Like the big-cool handles: No Probs! Thank You, Walmart Jibby
Its large. It has handles that don't get hot. Comes with the lid. Pretty standard pot, and does very well.
I really like this, although it's a tad bigger/taller than my old one. Used it for the 1st time Sat. when I made homemade chili. Love the handles & lid. It cleans up easily.
the pot was bent. the lid would not fit.
Aluminum construction Nonstick interior prevents food from sticking Silicone thumb-rest on handles