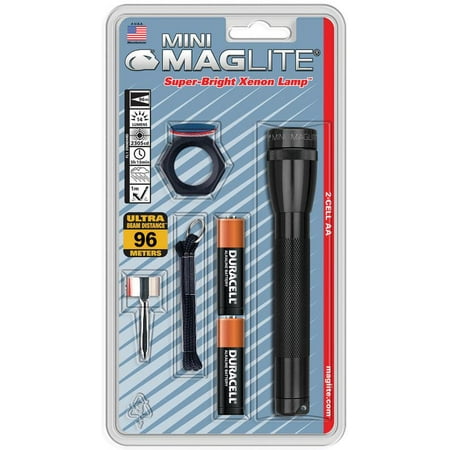 The Mini MagLite 2-Cell AA Flashlight Combo Pack provides high, intense illumination and is suitable for a wide range of uses. It is powered by two AA batteries which are included with the kit. The twist focus feature provides even distribution of light throughout the focused area with just a half-turn of the flashlight head. The patented candle mode on this black flashlight is ideal for use when camping. Its body is constructed with a high-strength aluminum alloy case for extended durability. The Mini MagLite 2-Cell AA Flashlight Combo Pack is sealed with an O-ring, making it waterproof.
Mini MagLite Flashlight:
High-intensity light beam
1/2 turn, twist focus, spot-to-flood
Patented Candle Mode
Spare lamp safely secured in the tail cap
Black flashlight has a high-strength aluminum alloy case
O-ring sealed for water resistance
Vented tail cap (patented) reduces chance of gas buildup
Compact/lightweight construction
Limited lifetime warranty in the western hemisphere and Japan; ten-year limited warranty elsewhere
Designed, patented and manufactured in the U. S. A. ; may contain some imported components
Color: black
Mini MagLite flashlight runs on 2 "AA" batteries (included)
reviews
Just what I was looking for. It puts out a lot of light and it is the perfect size. Not too big, not too small. Very happy with this high quality productl.
Work like the rest I own. I have had other aluminum(LED) that fall apart. I even have a 3 D cell hanging around somewhere. The old cops used to use them as bashers. No car window will survive.
droped it 115 feet and i still carry it everyday. works like new just a little bent.
The product is excellent but the pick up counter took 45 minutes to find it. It seems the receivers do not put the incoming merchandise into the correct bin numbers that show on the computer. The pick up counter employees were excellent.
This was great for its price, very handy to have in glove box and very bright. I'm very happy with this purchase.
The flashlight performs like a charm. For around 9 bucks, you could not ask for better. But changing the bulb is like performing micro surgery. You will need a microscope to fit the two wires into the holes. This light will work for years but when the bulb burns out, throw the light away and buy a new one.
I read the other reviews before I bought mine and was impressed to read all about it's brightness and ease of use/ carry etc. Then I received mine and I almost went back and doublechecked the reviews I read to check the date on them and see if they were all from the same blind institute. This is fairly decent flashlight and it is easy to carry & use but if you do know what LED bulbs bring to the table I doubt you would ever say this flashlight has a "bright" light. LED flashlights have bright lights, not this kind. This would've been concidered "bright" maybe back in the early 80's til I got my first LED flashlight.