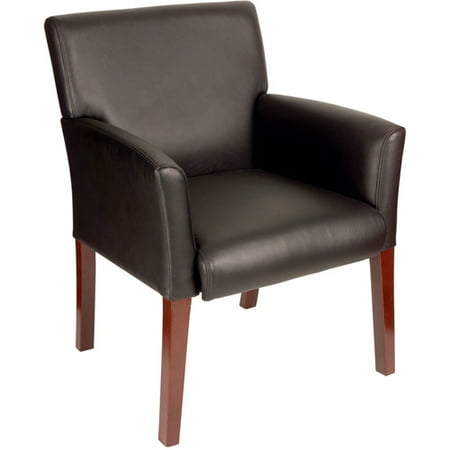 The Mid-Back Office Chair is an excellent choice for waiting areas and offices. It features ultra-soft, durable black vinyl upholstery and wooden legs with a mahogany finish. This comfortable mahogany and black office guest chair also comes complete with box arms. Welcome guests to your office in style, with comfortable seating that looks sophisticated. This chair can be used in your home for unique decor and unmistakable quality. The chair's frame is sturdy, and the upholstery can be wiped down, allowing this chair to retain its new look for years.
Mid-Back Guest Chair, Black and Mahogany:
Mid-back guest chair
Ideal for waiting areas and offices
Box arms
Ultra-soft and durable black vinyl chair upholstery
Wood legs with mahogany finish
reviews
Delivery was estimated at 2 weeks, but chairs came within the week, nice surprise. Easy to assemble, no loose screws – all the screws were screwed into the piece and you simply unscrewed them, put the pieces together and screws back in. Chairs are stylish, comfortable and affordable. This is our second set of 2 we bought as guest chairs for a professional office and we will buy again.
Looks high end. I am surprised that it is comfortable for this type of chair. Delivery on time and was way to put together
We bought 2 for our front office. They seem sturdy and comfortable for the occasional use they get. We're happy with them so far.
I would have given this 5 stars but the brackets on the chair were not lined up correctly and my husband had to do some adjusting. It's a comfortable, firm chair at a great price. With free shipping, I thought I could always return it to the store if I didn't like it. I bought this to put in our bedroom. Looks nice with our bedroom set. I'm thinking of buying another to use with a built in desk in our kitchen.
Very affordable, easy to assemble (easier with two people), stylish, and sturdy. We bought two of these for our living room for less than the price of one similar chair we were looking at on Wayfair.com and Overstock.com. We are very pleased with this purchase!
I bought these chairs for my office and they look really good and are sturdy…the assembly was a little bit uncomfortable, but I'm good w this purchase for sure! ab
I have purchased 2 of this gest chairs the first one was 1 inch off align making it very difficult to screw on the last 2 bults, a huge slash off 2 stars leaving 3 star raiting on that one. This one was perfectly align. the only thing on this one was the back panel would make "popping" sound when leaning on it. overall still 5 out of 5 start for this one.
Chairs look very good and professional. Seat is a little small but good chair for your office. Price and quality is really good!
Very nice chairs for the money. It would be nice if they were a little wider for biger people!