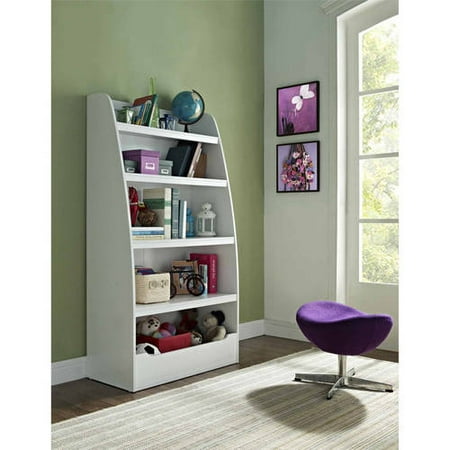 This Kids' Bookcase makes a wonderful addition to any child's or teen's room. Featuring a graceful, curved silhouette, this versatile bookcase looks great in any style interior. Four spacious shelves provide room for all their favorite books, as well as toys, movies, music, photos of friends and other personal items. The bottom of the bookcase features a partially enclosed compartment, making it a great spot to place all those tricky items that usually clutter the floor, such as building blocks, balls, puzzle pieces or even shoes. The Kids' Bookcase works well in both boys' and girls' rooms and offers an attractive storage solution that will help ensure their space stays neat and tidy. Your little one is sure to love it – and so will Mom and Dad.
Mia Kids' 4-Shelf Bookcase, Multiple Colors:
Open shelves hold toys, books and personal items
Available in espresso and white finishes
Assembly required
Dimensions: 31.57″L x 15.51″W x 60″
Model# 9627096
reviews
I absolutely love this bookcase. We put it in my 10 yr old sons bedroom and he loves it. He put his books on it as soon as it was finished. It was a little difficult to get a couple of the screws in, but that was it. I put it all together by myself and I am a 42 yr old woman. I did have to have my husband help stand it up though. We had to find a bigger screw, longer. The one provided to bolt it to the wall was no where long enough. I would highly recommend this and would buy another if a need rises for it.
I purchased two of the bookcases for my home office. I just love them. It too me a little over two hours to put them together. Easy instructions.
I bought this for my daughters room it has a nice height and each shelf hold 20 lbs so that helps with all of her books it is one of the better quality bookcase's I have purchased looks high end-I also did store pick up so less damage due to other reviews. Went together well nice and sturdy. It is a little darker than her other Espresso furniture but not a big deal.
I bought this as a Christmas gift for my grandson(s). Although it was larger and not what I originally intended to get them, I was pleased that I'd found something of quality that could grow with them as they get older. It was so beautiful that my son and daughter-in-law placed it in their living room. It is the perfect way to organize the books that my grandson had all over room and in his bedroom and the handy storage area below the shelves turned out to be the ideal spot for all of my grandson's puzzles. It obviously turned out to be easy enough to assemble since my daughter-in-law put it together one afternoon while my son was at work and the boys were napping.
Bought this item for my grandson's bedroom. My daughter and I absolutely love it! Very easy to assemble.
This bookshelf is amazing. Put it together with my 5-year-old & my 1-year-old, although he kept trying to eat the glue. Easy to put together. Very very sturdy! Extra pegs and screws (more than this type of shelf usually has) to give it more strength & stability. For the low price I paid I expected the usual cheap thin wood that would be ok for a kid's room but wouldn't last forever. But this is not like that. It's really good quality. I was pleasantly surprised.
We ordered this bookcase to go in our 4 year old daughter's room. I viewed several on many websites before deciding to purchase this one through Walmart online. I liked how it had several shelves as well as a bottom compartment for a few toys/stuffed animals. Because of the fact that on other websites, I read reviews on this bookshelf where people complained of damage to shelf; we opted for the store pick up option, thinking it would be handled more carefully. We waited a week for it to arrive and once we picked it up (which turned into a bit of a hassel) we open the box to still find damage in 3 different places. We proceeded to put it together being as how it's going in our preschoolers's room..I don't expect it to remain perfect. It's just disappointing when you spend the money on something and wait for it to arrive only to see that it's already messed up. Overall, it's good bookcase and she loves it. It looks good in her room and despite her large amount of books, knik-knaks, she stil has space for things on the very large shelves. I highly recommend anchoring it to the wall because it's very light weight despite its size. It was fairly easy to assemble, not even an hours' worth of time. Just be prepared to see some damage.