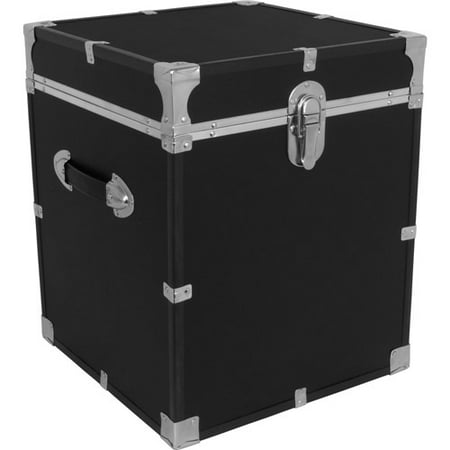 Expand your storage solutions with this 20″ Seward Trunk Black Footlocker by Mercury Luggage. It has a durable vinyl covering and strong wooden construction. This trunk is a reliable and stylish choice for all your storage needs. This wooden footlocker comes in a neutral black color that is sure to complement any existing decor in the home, from the living room to the bedroom. Designed with durability in mind, the Seward trunk is made entirely of wood and features strong metal hardware to complete the look of this piece.
Mercury Luggage Seward Trunk Cube Storage Footlocker, 20″:
Durable vinyl covering
Strong metal hardware
Wooden construction
Dimensions: 16″L x 16″W x 20″H
Model# 5820-10 storage foot locker
Classy and stylish storage in any room of your house
reviews
I like it. Very sturdy and versatile piece. Storage or foot rest ot coffee table applications can be done with this product. Criticism: the screw attaching the metal pieces on the outside poke through a bit on the insode but not too bdly.
My grandsons first Christmas, We loaded his treasure box with nice items for him. It's just right not too big or heavy
Great quality, exactly as described. Showed up several days late with no shipping updates but product is great
Bought this as a storage / decor piece for my living room. Going to chalk paint it a grey/blue color. Very nice for the cost! Cheaper than I would've found antiquing. Very sturdy and roomy and lined inside which is a nice bonus. A great purchase!
I wanted to use this as a bedside table, and wasn't sure if it would work. I'm very happy I did as it is perfect, love the look, material and holds a lot of storage. The price was also a very big plus! Sturdy and looks beautiful!
My son loves this truck and immediately dubbed as his ottoman. The only thing I wish it had was a way to lock the trunk. It holds a lot of stuff though and really is a great ottoman.
This item can also be used as a night stand next to your bed. Very attractive and holds more items than it appears. I put items on top, as it can also serve as a small table next to my bed. Great value and many uses.
I just gave my daughter a room makeover for her 15 birthday. Instead of using plain end tables, I used two of these. Excellent choice! Perfect for a teen plus it has extra storage room! She loves hers!
Came a little out of whack. I had to straighten it out to close properly.