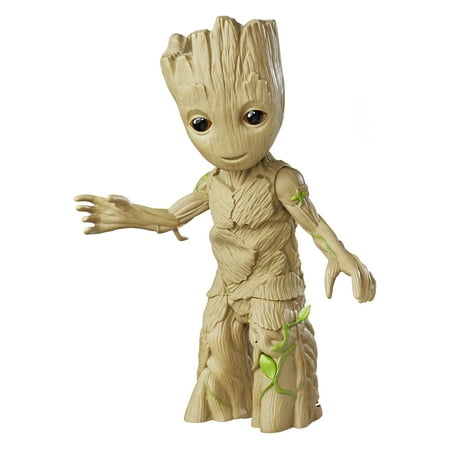 Bring the ultra-groovy style of Guardians of the Galaxy to life with this music-playing, sound-detecting, limb-shaking Dancing Groot! This 11.5-inch Dancing Groot figure is nearly the same size as Groot from the upcoming Guardians of Galaxy: Volume 2 movie, and features a clip from the song Come A Little Bit Closer from the movie soundtrack, so that when the far-out beat starts to play, Groot cant help but to get those roots in motion! Groot can also detect external music, so when the figure recognizes tunes from a phone, tablet, or other device, Dancing Groot starts to boogie!
Plays clips from upcoming Guardians of the Galaxy Volume 2movie. Dances to internal music, or detects external music to dance to song or playlist.When figure detects music, its eyes light up and it starts to dance.
11.5 inch figure with poseable head and arms
WARNING: Product may cause boogie fever.
Includes figure and instructions.
Ages 4 and up
x3 1.5V AA Alkaline batteries required.
Demo batteries included (see instructions).
Assembled Product Weight: 1.65 lb
Assembled Product Dimensions (L x W x H): 3.74 x 7.99 x 12.99 Inches
reviews
Very cute! So fun! Makes me laugh just like the movie. Be sure you read the directions. Switch in back has 3 settings. Off, try me and on. Set to try me in store so needs to be set to on to enjoy all he does. Also replace the 3 AAA batteries. People try it out in the store so batteries are run down.
This is great to get you in a better mood or just enjoy. Anyone who listens to Music or loved Groot in the Guardians is going to love this. You don't need to be young, just young at heart.
My family loves the Guardian of the Galaxy movies and think the dancing Groot in the movies was cute. I bought the dancing Groot for my grandson but didn't sent it to him. I took it back. It was very disappointing in the way it danced.
It's very cute. It says a few things and it dances. I haven't tried to get him to dance to music yet.
I bought this for my grandson for his 10th birthday and he absolutely loved it today
SAW GUARDIANS 2 WITH MY WIFE SHE LOVES GROOT SO I GOT HER THIS. VERY PLEASED!!
I love the way GROOT dances in the Movies…AND I saw this and have to have it, but when I got it and saw how it dances….I was very disappointed in the way it dances. I mean I didn't Expect it to move around like in the movie but it ONLY moves its waist and nothing else…Will return it to the store…and mine stops right in the middle of the song