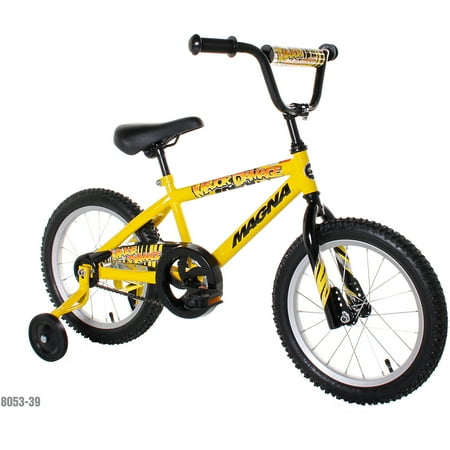 Kids everywhere will love this 16″ Major Damage featured in a yellow and black paint finish. Product Registration is fast and simple! Dynacraft BSC offers you an easy and efficient way to to register your new product. For registration information, visit http://www.dynacraftbike.com/register-your-ride.
Please note: If you select Site to Store delivery, your bike(s) will not be assembled upon pickup.
Major Damage 16″ Bicycle:
Yellow and black paint finish
Handlebar pad
Rear coaster brake
Training wheels included
reviews
I bought this cute yellow bike w/ training wheels for my five year old grandson. It's perfect. Walmart even put the bike together for free. You can't beat the price and the quality of this bike. My grandson took off on this bike and loves it.
It looks like a great bike but the frame was bent and we couldn't get the front wheel to attach. We had to return it and purchased a bike that was already assembled
Bike is just the the right size.
We had this bike delivered and while putting it together we noticed that the bars holding the wheel were bent so we had to return it. But the next one was fine. It's a nice basic bike.
It was easy to put together & my son is going to love his yellow bike.
Great deal for this well built bike. But on top of that my Walmart in Shelby Twp. MI has great people working for them. One of the guys in their electronic department put the bike together for me so I could have it for a birthday. Great price and Great service.
Received when stated. Easy assembly (I had to refer to the manual for the 5 easy steps: attaching the front wheel, attaching the training wheels, attaching handle bars, attaching the seat, and screwing in the pedals). Some people may not need the manual, but I did. Very sharp looking bike for my 6 year old grandson.
If you are looking for a no frills 16 inch bike, this is the one. It is easy to assemble with standard hand tools.
We bought this bike for my son last year for Christmas. He never even got to ride it. The seat will not stay on the bike, he pulls off, turns side ways, and tilts forward. The pedals do not stay on the bike either. I was very disappointed and wished I had taken it back right away! Now I have a brand new bike without a seat that works and one pedal.