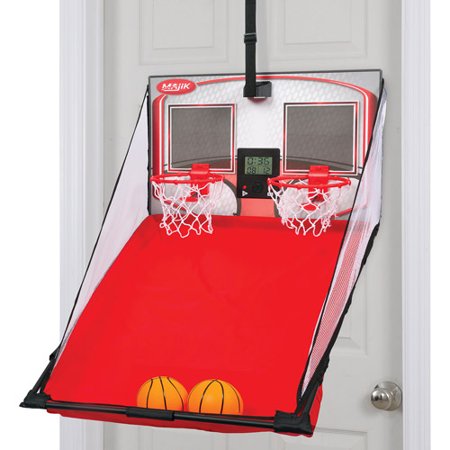 Hangs easily on any door
Great for the game room, den, family room or bedroom
2 arcade double-shot hoops
Majik Over-The-Door Basketball:
Hangs easily on any door
Arcade basketball game is a wonderful for the game room, den, family room or bedroom
2 arcade double-shot hoops for 1- or 2-player action
Real arcade LCD scoring and stadium sounds
7 great game options to choose from
Complete with all accessories: 2 arcade basketballs with inflating pump
Electronic basketball game requires 3 AA batteries (not included)
A great gift idea for anyone who enjoys basketball
90-day warranty
Dimensions: 34″L x 22″W x 14.5″H
Model# 1-1-28335
reviews
A lot of fun for the price, its just like an arcade game! Very convenient that you hang it on a door, and can fold it up out of the way if needed. My 6 year old son really enjoys it, and so does my 26 year old husband haha!
My nephew absolutely loved this game, and it was one of his favorite Christmas gifts.
Need room for it. It does not collapse easily. Use on a door not often used! But a lot of fun.
I bought this product as a gift for my boy & girl nephews, it was perfect as it comes to play with a partner, the counter entertained them for a long time, the installation was very easy and quick to do. They loved their Christmas gift.
3 AA batteries should be 3AAA Thank goodness my grandson was able to find batteries on Christmas day, since I included what the web details stated.
I have not seen this myself as I had it drop shipped to my grandsons in another state. Was looking for a Christmas toy they could all enjoy….boys age 2 1/2, 4 and almost 6. They all love basketball. The kids and their parents told me they love it
Since my little boy likes to do what his big bro does this game is perfect, i can buy more basket balls to keep the game going! Their not very competitive yet, but when one is ahead the other helps to catch up to match the number. It's convenient to put up, easy set up, it's not just for kids!
Bought as a present and will know more when it is put into action. For right now everything looks as advertised.
I purchased this as a gift, kids love it it's not the best build buy it works better than expected for the price
This is a great product for the whole family. It was easy to put together and works well on all doors.
doesn't lay against door properly and falls apart while trying to use. tried to rig it so we could use it but finally packed it back up.