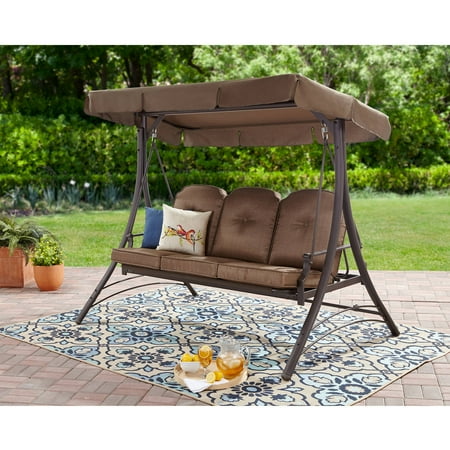 The Mainstays Wentworth 3-Person Hammock Swing will make a cozy addition to your backyard oasis and pairs well with a dining, chat or bistro set so you will have a complete look for entertaining. It has plush, extremely comfortable cushions that offer a sophisticated look and feature button-tufted back detailing. This durable swing is designed with an adjustable canopy covered in Havana Brown stria tonal stripe that will complement a variety of outdoor decor with ease. The frame is constructed using powder-coated steel to resist rusting, offering long-lasting strength you can count on. This gentle swing is tested to hold up to 750 lb and finished in a bold matte French Roast finish. It offers you a serene and comfortable place to relax and refresh. The canopy has been UV rated, so it's protected from discoloration. The fabric on the outside of the cushions is also outdoor safe and UV rated to provide lasting style. It is simple to assemble. This Mainstays Wentworth 3-Person Hammock Swing will give your yard an elegant touch.
Mainstays Wentworth 3-Person Hammock Swing:
Easy assembly
Durable, rust-resistant powder-coated steel frame finished in matte French Roast finish
Plush cushions with button-tufted detail on back
Dimensions: 82-3/4″W x 52-3/4″D x 66-1/3″H
Durable swing weight limit: 750 lbs
Canopy: outdoor/UV-rated, pigment-printed stria tonal stripe polyester
Fabric: outdoor/UV-rated, pigment-printed stria tonal stripe polyester
Warranty: 1-year limited warranty on frame
reviews
Super happy with my swing purchase. Just FYI – took 2 guys awhile to assemble – lots of pieces. Only complaint is that it came with some blemishes on the legs when pulled out of the package. (Scratched up, but not super noticeable unless looking closely). Great price, stable & company!
Absolutely love this swing. So relaxing…. Just wish it had a mechanism to keep the motion going. Could easily fall asleep on this swing. Putting it together took a while. Lots of parts. Instructions could have been written better. Nice way to package the parts so you don't lose any.
I love it! The extra heavy weight limit makes it awesome for three adults and a 3yo grandchild. It is larger than some swings I have looked at so you will need a good size space for it but for lazy afternoons it is perfect. Very heavy duty. Husband and I put it together in approx. 1hour. All parts were there. Some light scratches on the finish, but I think that was me dragging the parts on the concrete. Not noticeable unless your looking to nitpick. I'm 5'8″ husband 6'2″ the height is okay for us. It could be taller but it was made for a wide range of people and that being said it is fine. I also love!!!the price at walmart.com. I have been looking for this particular swing on many websites and Walmart had the best price hands down! Also having the Walmart brand stand behind the sales is awesome too.
I m so glade that i bought it from jet.com. fast delivery and so easy to assemble…instructions are so clear that u can assemble in an hour. I did it by my self. I checked it on many websites and here I found what I was looking for. Gr8 material and color. I m sooooooo happy with the product. Thank u jet.
I am delighted with this item. The swing is sturdy, and swings very nicely, quietly. The bed part makes out very easy. The top adjusts very easily too. The cushions are comfortable and dry out very quickly after a rain.
70% of assembly finish when we realized one arm was miss marked and had 2 arms the same. Called customer service and spoke with a very rude woman to get a correct arm, only to have every comment and question answered 6-8 weeks to get a replacement. Call a second time and spoke with a very nice younger women told 4-6 weeks. She took all my information and said one would be delivered 4-6 weeks This swing was purchased for our 89 yr old Dad for father's day We still haven't received the correct arm, swing is useless with out it. And summer is just about over. Walmart took the swing back -no problem -but manufacturers customer service is any thing but customer service and I won't be buying anything from them again.