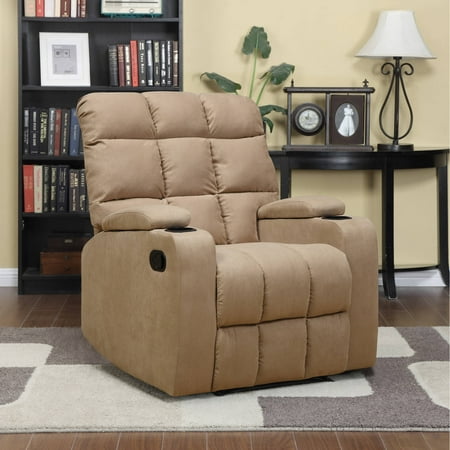 Update your living room furniture with this Power ProLounger Wall Hugger Recliner. The wall hugger function recliner only needs four-inches of clearance from the wall to recline. It is powered by an easy to open and close electric toggle. Covered in a durable, stain-resistant microfiber or 100 percent bonded Renu leather fabric, it is perfect for theater, media, family and living rooms.
ProLounger Storage Arm Wall Hugger Microfiber Recliner, Multiple Colors:
Includes a storage area and cup holder built into each arm
Wall hugger design recliner only needs 4″ of clearance from the wall to recline and uses less floor space when reclining
Perfect for home theater and living rooms
Full chaise pad between the chair and the leg rest to support the legs for a truly comfortable recliner
Convenient storage arm holds magazines, books, remote control and more
Easy to open and reach 'Car Door Lever'
Covered in a durable, stain-resistant 100 percent polyester microfiber
Cushions are filled with high density foam, polyester fiber and no-sag springs
Constructed with a laminated hardwood frame
Steel reclining mechanism
Insulated spring clips
Eco-friendly and efficient product design uses less fossil fuel based components in construction and delivery
Break it back down to recycle at the end of use for additional peace of mind
Ships in 1 box
Assembly required
1-year warranty
Dimensions: 33.50″L x 37.00″W x 39.00″H
For customer support, questions, assistance or comments please contact our customer service number at (866)-238-0531 Monday-Friday 8:00am-4:30pm CST
reviews
The recliner arrived well before the expected date. The package was very heavy together so we opened it outside and then moved the two pieces ( comes in two pieces) inside the home. Once inside it took practically two minutes, if not less, to place together. Seriously thats it! You place the back on the chair and it's ready to be used. The chair is very comfortable. The cup holders fit all the different sizes I have. However the arm storage on both sides is VERY DEEP. I want to say it goes all the way to the bottom of the chair. I don't know if that's a good or bad thing. In any case we or definitely in the market to order another one. We purchased the Renu leather in brown/chocolate. Great chair. Also you can have it against the wall and still prop your feet without having to recline back. LOVE IT!
I wanted a chair that had cup-holders in it. I saw this style and got intrigued with it and bought two of them for the living room. I really like them! The storage in the armrests is a nice feature! I have now had them for a week, and the only tricky thing with the chairs is that sometimes it can be tricky to close the footrest. It does not close very easily. Or at least that has been my experience this far.
My chair was delivered quickly to my home. This chair is so comfortable!! Every time I sit in it, I fall asleep!!
I like this chair. It is comfortable and has good storage and drink holders on both arms. The material feels soft but cheap. My cats have been leaving holes from their claws when they walk across it. However, for the money, I think it is a good bargain.
We ordered a set of these chairs. They are ok but I would like for the foot stool to be longer and the chair to be a bit wider. The description said that this chair was stain resistant. It isn't. I had to order covers to make sure they aren't ruined. Wishing I could have tested them out before we bought them.
You cannot find a recliner made this well for the money anywhere. I know. I searched a long time. I was skeptical. I bought two. The boxes arrived banged up, dented and with holes. I was worried. Inside, these things were packed so well, the chairs were pristine. They seem very well made, and firm so they won't sag apart too soon. If you want a recliner that you sink down in like a cloud, these are not for you. If you want one that is firm, easier in and out and holds up, they're perfect. They are not for very large people, they run a bit small, but I'm 5'3″ and love them. The storage arms are deep. I keep magazines in one side just fine, the other I stuffed a rolled up towel in, so I could keep remotes and so forth up high enough to reach easily. I sprayed them with a couple coats of Scotchguard. While I was gone yesterday, my cat vomited on one. It was dried and nasty but cleaned up beautifully with no stain. Love these chairs.
Very firm, like the deep storage and the fact you can remove the cup holders to wash them. The 2 recliner deal really sold me on this, and my wife and I love them
The chair was very small. It would be good in a kids room. I'm only 5'9″ and it was way to small for me. Not a good "easy " chair for an average sized guy.
ProLounger Storage Arm Wall Hugger Microfiber Recliner, Multiple Colors: Includes a storage area and cup holder built into each armWall hugger design recliner only needs 4" of clearance from the wall ...