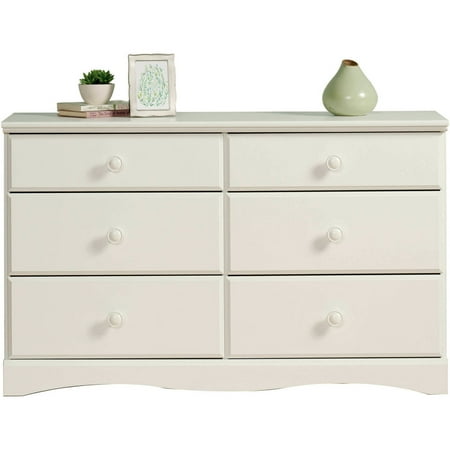 Whether it's a wolf chasing pigs or a cat wearing a hat, story time with the little ones just got more memorable. Signature features of the Storybook bedroom collection include a soft white finish, classic round knobs and whimsical curves. This dresser with six drawers, all on smooth-glide metal runners, is a practical means for wardrobe storage. Four lower drawers are extra-deep for those bulkier apparel items. Don't settle for ordinary, make it a Storybook ending.
Mainstays Storybook 6-Drawer Dresser, Soft White Finish:
Soft white finish
4 large storage drawers
2 smaller storage drawers
Engineered wood with a laminate finish
Assembly required
Assembled dimensions: 49.13″W x 16.22″D x 30.24″H
reviews
It was very easy to put together. I put it together by myself. With breaks in between it took me around 6 hours. I'm 24, 5'3 and I was sick when I put this together so ladies yes you can do it. Minus two or three pieces everything is small so if you live alone or you have to carry everything upstairs you can easily do it piece by piece. I had my 4 year old help me carry the small pieces upstairs, they were that light. The only bad thing I have to say is the part where you insert the sliders in on one of the drawer areas, the holes weren't aligned properly so I have one drawer at the time with a gap in between that is very obvious but I don't mind. In the back of the dress there is a hole that is supposed to be used to attach the dresser to the wall. I didn't do that because I'm going to be moving the dresser like crazy. Instead I just used it turn one of the drawers into a media type drawer that way I can have my video game hidden. All in all this turned out to be a great purchase.
For the money, this is hard to beat. It is time consuming, but easy to put together. My only criticism is that some of the furniture uses slots instead of holes. I did my best to line everything up, but when I was all done, I had to go back and raise or lower the screw placement in the slot to make the drawers straight.
I bought this chest based on previuos reviews, well they were right, for the price you can not get better! Also delivery was excellent! Fast and on time.
Took about 3 hours to put together. Not too difficult. Beautiful dresser for the price. I changed the knobs to personalize it a bit. We're happy with the purchase.
We bought this dresser for our nursery. Which good thing it is for a child's room because the height of this dresser is very low. Other than that it looks good and has plenty of room for storage. It wasn't too hard to put together either.
Mainstays Storybook 6-Drawer Dresser, Soft White Finish: Soft white finish4 large storage drawers2 smaller storage drawersEngineered wood with a laminate finishAssembly requiredAssembled dimensions: 4...