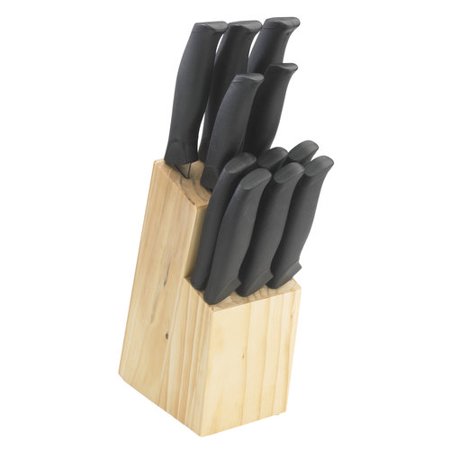 Simplify your kitchen with the Mainstays 12-piece Knife Set. It comes with a handy wood storage block. It also features a variety of useful knives including a six steak knives. It also has a small paring knife for preparing fruits and vegetables. Each piece in this kitchen knife set has a soft-grip handle for ease of use.
Mainstays Soft-Grip 12-Piece Knife Set:
Set includes:

8″ chef's knife
8″ carving knife
7.5″ bread knife
5.5″ utility knife
3.5″ paring knife
Six 4.75″ steak knives

Great for everyday use
Soft-grip knife set for firm grip while cutting
11-slot wood block included
reviews
price is very reasonable- was intact and on time
I just relocated for school and started almost from scratch. This set was a great addition to my kitchen.
I purchased these because I recently moved for college and got my own place and needed to get everything settled. These are nice in appearance and were inexpensive so I thought I would try them out. They aren't very good quality though. They feel cheap and they don't cut very well. Even through a tomato, the so-called "chef's knife" took some extra effort to slice through the fruit. I tried to sharpen them with a knife sharpener and still no change to the quality of the slicing. All in all, unless you don't mind the trouble of improper slicing, then these are not for you.
Super cheap and cuts well. However, plastic quality of the handles could be improved. My impression is that they will not last very long.
I needed cheap knives for a vacation cabin, received cheap knives….you get what you pay for.