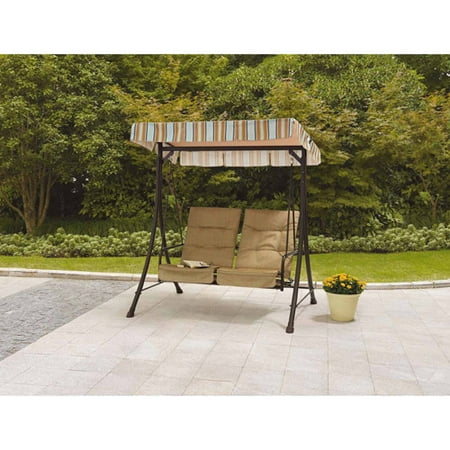 Add comfortable and stylish seating space to a backyard, patio or lanai with this Richland Landing 2-Seat Swing with Pullout Ottomans. Its frame is constructed of sturdy and durable powder-coated steel and features a dark finish that will blend with many outdoor decors. The swing outdoor ottomans pull out for added comfort. This piece features a tufted design on the seat backs. It also has an adjustable canopy that will help protect users from the harmful rays of the sun and other elements.
Mainstays Richland Landing 2-Seat Swing with Pullout Ottomans:
2 pullout garden swing ottomans add comfort in a compact design
Fade-resistant fabric, UV treated
Adjustable canopy
Seat backs feature a tufted design
Durable, powder-coated steel frame
Weight limit: 250 lbs per seat
500 lbs per swing
Swing dimensions: 50.79″L x 62.4″W x 68.5″H
Model# RUS426K
reviews
I put this swing together myself this past weekend. I'm 63 and not in great shape so muscles I hadn't used in a long time got a workout but it went great and now I'm enjoying my new swing immensely. Highly recommended and many friends have already inquired about where to purchase. It's actually on sale now for less than I paid which was a great deal to begin with. Definitely get this!
I like the comfort, and the height of the back where your head rest, I am very happy with it 🙂
My husband and I put this together. There was one time I really had to do some thinking and looking at the diagram to put the seating part together. But other than that it was easy putting it together. Just follow the directions. I really like the high back on it and the pullout ottomans. The shipping on this was pretty quick. It is a very well made swing and I can't say a bad thing about it.
Sturdy frame; however, cushions are thin; can feel the metal through the cushions; need to put cushions on top for more comfort; seat is difficult to assemble; holes do not line up and hard to put screws in; directions are hard to follow. Overall, swing is okay, but be willing to invest some time putting it together and have someone help you or have it delivered already assembled!
We received the swing at our doorstep in just a matter of days from when we ordered it online. My husband put it together, by himself, in a few hours. It's really pretty in our back yard and very comfortable.
Concealed shipping damage. Arrived pretty scratched up in the box. Item arrived 3 days later than originally promised so it sat on our porch while we were away on vaca (advertising that fact). Only 2 of the 20-30 items to assemble had identifying stickers. Assembly instructions vague. Not too bad once assembled.
I got this for Mother's Day and we start to put it together and 3 out of the 4 main bars are scratched, bad. Missing a whole packet of hardware. I was going to live with the scratches, but didn't have the first bolt that was needed. So it is still sitting out back until my husband has a chance to take it back and reorder. So disappointed, just wanted to relax on my "one" special day.
Mainstays Richland Landing 2-Seat Swing with Pullout Ottomans:2 pullout garden swing ottomans add comfort in a compact designFade-resistant fabric, UV treatedAdjustable canopySeat backs feature a tuft...