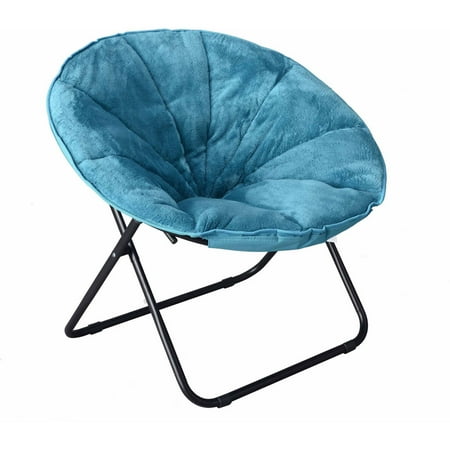 The Mainstays Plush Saucer Chair is available in many fun colors. Great for the den, the kids' room or even a dorm room, this sturdy chair folds for easy storage. The seat is finished in soft faux fur fabric and the durable, powder-coated frame holds up to 225 pounds.
Mainstays Plush Saucer Chair, Multiple Colors:
Soft faux fur fabric
Durable, powder-coated frame
Folds for easy storage
Weight capacity: 225 lbs
Dimensions: 30″W x 26.4″D x 28″H
Versatile easy fold chair
reviews
This was exactly what I was looking for. It is very soft & no assembly required. Perfect.
Bought this for my 2 year old daughter, she loves the softness of the chair
I bought this chair for my classroom reading area. It is cute and perfectly sized for kids, but works well for an adult too! Love the color, and it's very soft. For the price, this was a great purchase. The children are loving it!
It is very nice I bought it for my little boy, but I also sit in it as well. Very comfortable and no assembly. No complaints as of yet.
She loves it super soft and comfortable. I love it because I can fold it and put it up when cleaning up her room. Much better than expected. I may order her one more
Very soft. Looks just like the picture. Definitely keep in mind the weight limit posted. I don't see it as heavy duty but it definitely serves the purpose we bought it for.
I am a teacher transforming my classroom to a more casual comfy setting and my students absolutely love these chairs!
bought this chair in spearmint and gray for my sisters room and my room. I am 5'1 and she is 5'4 and this chair is perfect for us both. it's very soft and comfy and the color is very nice.
Color was perfect match for my bedroom decor…but it's not a comfortable chair for an adult to sit in for a long time…my 7 year old son, however, can curl up in a very comfortable position. It does slide when you sit down, so I just keep it against the wall.
The ONLY reason I gave it a 2 star was because it is a child's chair and should be listed as so.I am a small adult and though I fit in it it is by no means comfortable enough for a saucer chair.If this is not a child's chair I am curious what the chairs that are listed as children are.So if you are an adult no.if you are 10 or under great buy..