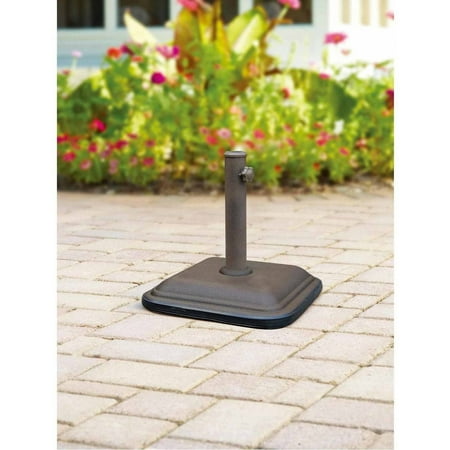 Keep your patio umbrella secure with this Mainstays Lawson Bridge Umbrella Base. This outdoor umbrella base safely anchors your umbrella below your patio table so you can enjoy cool and comfortable shade whenever you dine. The powder-coated umbrella base is very easy to assemble. Since it is powder-coated, it can withstand all types of weather conditions and will continue to look new even after rough weather. Ideal for those pleasant mornings and evenings, this umbrella makes it enjoyable to sit outdoors sipping a cup of tea under the umbrella shade. The Mainstays umbrella base also has a locking knob to secure the umbrella along with the base. This base will definitely make a smart addition to your outdoor patio furniture and can be used together with other pieces in the Lawson Ridge collection (sold separately) or with your existing patio set. This outdoor umbrella base will fit with most standard patio furniture sets.
Mainstays Lawson Ridge Umbrella Base:
Powder-coated, steel frame
Easy to assemble
Dimensions: 18.11″ L x 18.11″ W x 12.8″ H
reviews
This IS a very heavy base. I have a cast iron base that is not as heavy as this one. Be sure to measure the area under your table. Keep in mind, this is square. It did just fit under the patio table but I never thought to measure before hand. So do be sure to measure to make sure it fits under your table. The tube is longer than any other bases I own. The tube being long, will aid in sturdiness to the umbrella pole. This base is solid so keep in mind, water may become trapped under it, depending on where you place it. I suggest simply moving it slightly after a rain to make sure area is dry or to allow sun to dry that area, then simply move back. The reason I say this is because the product is solid and it does not state WHAT is inside the base. It does not state it here nor in the directions I received. IF you are placing this item on ground, I suggest placing some sort of platform under it and your table. If this item contains a concrete material, it really could become unstable after a period of use if placed directly on ground that becomes wet consistently. I have this base on an open concrete patio. After a rain, I will simply move it slightly to allow sun to dry any area under it that may have water. I am not sure you can beat it for this price of under $20. I also think it will last a long time if taken care of.
I purchased two to match the 9 ft umbrellas purchased. When I opened one box, I noticed the glue around the base was off, but the base itself seemed good. The second one had a hairline crack. I thought it was the paint and not the base itself. I was wrong. The base came apart in two corners. Its quite heavy so taking it back to the store was annoying. But the customer services was great. I exchanged it for another. Hopefully, the new one, and the previously purchased one holds up. I expect them to crumble though. I have this feeling….
Bought this to replace a plastic one & it is very good quality. The price is what attracted me to look at it. The price was very reasonable for such a nice product. I purchased through the website in the evening & it was ready for pickup the next morning.
Works very well nice and heavy and looks good too . Perfect !
Easy to assemble, and sturdy. Holds the umbrella well, even with moderately heavy winds, no tipping over. Good value for the price.
Unfortunately, the umbrella that I bought would not fit in this base, the circumference being too small for the pole. It is very heavy and a good quality, disappointed. So beware that this might be the case for you depending upon the umbrella.
This is a nice, heavy base, that I ordered online, but unfortunately arrived broken.
Mainstays Lawson Ridge Umbrella Base: Powder-coated, steel frameEasy to assembleDimensions: 18.11" L x 18.11" W x 12.8" H
Mainstays Lawson Ridge 8' Umbrella, Red: Can prevent the sunshine outside efficiently Includes manual tilt Crank lift Use a mild solution of soap and water Durable, powder-coated steel frame No assemb...