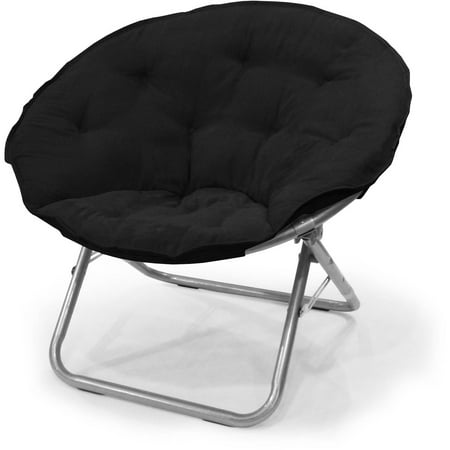 Jazz up any room with this Mainstays Large Microsuede Saucer Chair. With a wide saucer design and cozy 100% Polyester fabric, this chair is the best seat in the house for studying or relaxing. The soft faux fur fabric, available in an array of eye-catching colors, is easy to spot clean. This chair has a weight capacity of 225 lbs and the steel frame folds for easy storage. No assembly required.
Mainstays Large Microsuede Saucer Chair:
Soft, wide seat
Foldable steel frame
Great for lounging, dorm rooms or apartments
100 percent polyester upholstery
Easily folds for storing or transporting
Weight capacity: 225 lbs
No assembly required
Mainstays saucer chair dimensions: 30″L x 28″W x 29″H
Available in various colors
reviews
a little small for my husband, but perfect for me. Love it.
So far perfect for the kids I hope they last
Well made…bought for 6 year old but anyone can sit in it. Very sturdy!
Smaller than most chairs this style, yet certainly big enough to comfortably fit most adults. Good sturdy back provide excellent support. Easy to get out of. Holds 225lbs. Soft and looks nice.
Looked around at diffferent stores and this chair had the best price. I was slightly worried about how it would hold up but it feels really sturdy. Great buy for the money!
I would definitely order online again and have delivered to the store… The only reason why I didn't give five stars because the presentation..the box was really beat up looking
I bought this chair for my preteen grandchild, it is very nice and also very sturdy. When my other grandchildren saw it the wanted one also. So as Christmas and birthdays come around they have gotten their own saucer chairs. So far I have purchased three. Grandkids are happy and so am I. Highly recommended.
I was hesitant to buy this chair due to its low cost, but am glad I did. It is used for our kids, but can handle an adult without any worries.
Very good for a small living room. Best price and it's very comfy
The chair was entirely to small. It look like a kids chair. Not at all what I expected. Will not order another one!
Mainstays Large Microsuede Saucer Chair: Soft, wide seatFoldable steel frameGreat for lounging, dorm rooms or apartments100 percent polyester upholsteryEasily folds for storing or transportingWeight c...