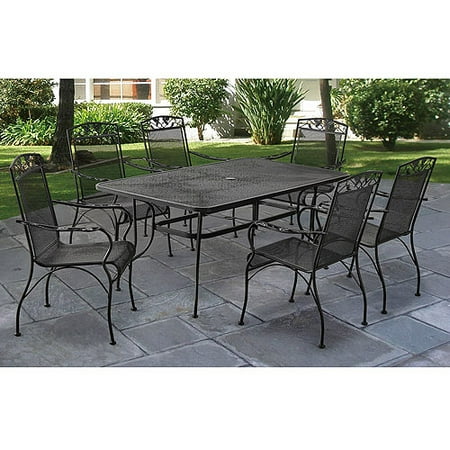 This dining set will make you never want to leave your backyard oasis. This decorative and comfortable set is sturdy and low maintenance. Set includes dining table and six chairs.
Mainstays Jefferson Wrought Iron 7-Piece Patio Dining Set:
Table:
Sturdy and low maintenance
Rectangular mesh top table
Umbrella ready hole (umbrella sold separately)
Table dimensions: 66″L x 38.02″W x 27.97″H
Chair:
Distinctive deco on arms and back
Wrought iron mesh seat and back have long-wearing black finish
Extra wide seat adds more comfort
Supports 1 person up to 250 lbs
Chair dimensions: 27.19″L x 26.99″W x 38.61″H
Manufacturer's Information:
Care: use a mild solution of soap and water; pat out excess moisture with a dry towel after rinsing; allow to air dry
Arrives in 2 boxes
Assembly instructions included inside box
Assembly time with 2 persons is approximately 1 hour
1-year warranty
Site to Store Pickup Note: This item is packaged in multiple large boxes that may not fit in a standard-sized vehicle. Please make sure you have a large car or truck for store pickup.
Box 1 dimensions: 36.81″L x 27.56″W x 43.7″H; weight: 104.72 lbs
Box 2 dimensions: 66.93″L x 2.95″W x 39.17″H; weight: 51.04 lbs
For more information about this set, please call 1-877-539-7436 Monday – Friday, 9:00 A.M. to 4:30 P.M. EST
reviews
I ordered this a few years ago, and it still looks great. Even without being covered, it still is like new with rain and a few snow storms in NC. Putting the table together was easy for me, a 65 yo female, not strong. It took less than an hour. You have to keep the screws loosened so you can pull and tug a bit to lineup all the other screw holes. Once I had to loosen a couple screws to have more play, but I thought the table assembly it was easy peasy. The chairs were more complicated. I put them together with my neighbor, but pretty sure I could have done it myself. Some legs needed pulling on more than others to match the screw holes. A couple times it did not line up, but I tried switching the difficult leg ito another chair and it worked. Again, there is some pulling and tugging, but we got them all lined up. But not as easy as table. I recall big boxes arrived very quickly, I think less than a week, and I was lucky to receive all parts.
We read many reviews and were almost dissuaded from purchasing the set based on several negative posts. Our experience was positive all the way from purchase through delivery and assembly. Yes, a battery powered screwdriver helps. The holes that the screws go into are small for a reason: The screws are self tapping and need material to grip. The packaging was well done and there was no damage whatsoever. The delivery was made on time as promised. The only suggestion I would make would be to have a little more detail about the direction the chair brace is installed. That said, after you do one, the others are a piece of cake. It is not as good a set as the $2,000 one it replaces but it was less than $400!!
This set was really easy to put together and looks great. the chairs are comfortable and the table is sturdy. #Parent2ParentContest
Table is great, easy assembly. Chairs come mostly assembled, but you have to install two support bars on each chair to make them sturdy. These are very difficult to screw in and don't line up exactly.
un less you are a handy man and like refinishing furniture. i would not recommend this patio set. the online delivery system is terrible, arranged 3 different delivery dates to have it delivered, if i had not tracked the shipment down, i could still be waiting. i found a orange notice in the box that said that the furniture was carefully inspected. i truly had to laugh. 4 out of the 6 chairs had bent legs so much that it took about 20 minutes to get them apart, at first thought that they were tied together. #2 there were no screws sent to put the chair together, after purchasing my own screws , i realized that the pre drilled holes were different sizes. yes i had to re drill all the holes to fit. this has been a common complaint of other buyers.
;br;;b;Mainstays Jefferson Wrought Iron 7-Piece Patio Dining Set:;/b;;br;;br;;b;Table:;/b;;ul;;li;Sturdy and low maintenance;li;Rectangular mesh top table;li;Umbrella ready hole (umbrella sold separat...
Mainstays Jefferson Wrought Iron 3-Piece Bistro Set, Black, Seats 2:Table: Durable steel framePowder-coatedTable dimensions: 24.02"D x 27.95"HChairs: Durable steel framePowder-coated2 chairs includedC...