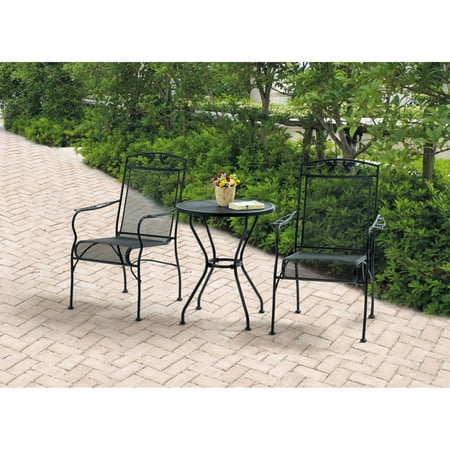 This Mainstays Jefferson 3-Piece Bistro Set is great on any patio and is comfortable for everyday use. All the pieces are made from a durable powder-coated steel frame, so it will withstand use and last for many years. It includes two chairs and a table. Enjoy outdoor activities with this black bistro set.
Mainstays Jefferson Wrought Iron 3-Piece Bistro Set, Black, Seats 2:
Table:
Durable steel frame
Powder-coated
Table dimensions: 24.02″D x 27.95″H
Chairs:
Durable steel frame
Powder-coated
2 chairs included
Chair dimensions: 26.77″L x 26.97″W x 38.78″H
Manufacturer's Information:
Wrought iron bistro set seats two and arrives in 1 box
Easy to assembler
Assembly time with 2 persons is approximately 10 minutes
Instructions included inside box
1-year limited warranty
reviews
Very pleased with the set. It arrived in a timely manner. I appreciate the ability to track the shipment and delivery. Chairs came assembled. Just needed to attach the supports. The table went together fairly easy. There was only one hole in the ring that needed enlarged a little by a file. I do have a concern for the arm rests on the chairs. They have welded vines and concerned with time that they will come undone with use and pressure on them from arms resting on them. Otherwise very happy with the set. Price was good also.
This set is very pretty and very sturdy. The chairs were put together and my son had no problem putting the table together. I would also like to compliment the driver for being so professional and courteous.
Gave this set to mother today. She loved it! The only problem I found was actually the same as another review, the screws on the chairs are not aligned. Other than that last vet this set. It is really comfortable.
Overall construction is very good, only complaint is that the holes to mount the chair leg support brackets had to be re-drilled as several were under size to the point that the self tapping screws could not be driven.
It is a beautiful set, at a fair price; appears just as pictured. Comfortable. I found it relatively easy to assemble. The only drawback was installing the supports below the chairs; some difficulties in placing the screws. From my understanding, it will need to be stored away during off season and inclement weather (especially rain and snow). I hadn't thought about that before purchasing. Otherwise, I am very happy with the purchase.
We bought 3 sets for the chairs only. Parts to assemble bars on chairs were not shipped. 4-6 week wait after we called company who makes. Tables same story no or missing parts. Tables not that easy to assemble & we are quite handy. Too bad because chairs are attractive once assembled. Not recommend due to inefficiency in getting nec. Parts included and long waits if you need bars, screws and basics.
Mainstays Jefferson Wrought Iron 3-Piece Bistro Set, Black, Seats 2:Table: Durable steel framePowder-coatedTable dimensions: 24.02"D x 27.95"HChairs: Durable steel framePowder-coated2 chairs includedC...
Mainstays Wrought Iron 3-Piece Outdoor Bistro Set: Table: Heavy-duty steel frameDurable, powder-coated, carefree finishMesh table topClean with mild soap and waterDimensions: 24"L x 24"W x 24"HOutdoor...
Mainstays Outdoor Wrought Iron Seat Pads, Black Floral Stripe, Set of 2:100 percent polyester fabric100 percent everLUXE Polyester fillSelf ties to fasten cushionFade resistantProtective treatment hel...