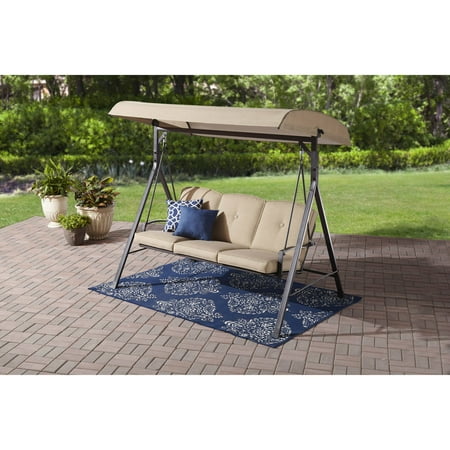 The Forest Hills Cushioned Swing is a great addition to your backyard oasis and pairs perfectly with our Dining, Chat or Bistro Set. Our Forest Hills Three-Seat Cushioned Swing has plush, extremely comfortable cushions featuring button-tufted back detailing, along with an adjustable canopy. The frame is constructed using powder-coated steel to resist rusting and is tested to hold up to 750 pounds and finished in a matte espresso finish with a one-year warranty. This gentle swing is exceptionally peaceful and a great place to unwind after a long day.
Mainstays Forest Hills 3-Seat Cushion Swing:
Easy assembly
Durable, rust-resistant powder-coated steel frame finished in matte espresso finish
Plush cushions with button tufted detail on back
Dimensions: 76-3/4″W x 19-3/4″D x 69-3/4″H
Weight limit: 750 lbs
Canopy: outdoor/UV-rated, pigment-printed solid polyester
Fabric: outdoor/UV-rated, pigment-printed solid polyester
Warranty: 1-year limited warranty on frame
reviews
Great quality worth every penny, kids and wife like it.
This swing is Awesome! It is very sturdy even holds a not so skinny person and a few extra people. It looks nice, and is comfortable and fun. I highly recommend this to anyone looking for a swing. It took about two hours to put together. The only one thing is that not all of the parts are labeled. But just use your common sense and you will be able to put it together with no problem. You can kind of tell what parts should go where. Before you wig out take a breather and just look at how it should go together. It is not really rocket science. Once you do it you will be so glad and happy with your awesome new swing. I hope everyone else who gets this swing enjoys it as much as I enjoy mine. 🙂
Just got this swing. The color was darker than expected but with little ones it worked well. Foot prints every where. My husband took two days to set up because of a missing part. Went to home depot and continued with the build. Everyone loves the swing. Kids sure like to swing and I find it relaxing.
I bought this for my husband for our 25th wedding anniversary to replace a swing we'd had for years. The packaging was not great. It was shipped to the house. The parts were not well wrapped and banged against each other causing scuffs and scratches through the powder coating. The base material that the cushions rest upon is thinner and more cheaply made than it looked online. The kicker is that upon trying to assemble the swing, we noticed that the arms were missing. Yet, they put a bright orange paper in the box saying how the unit was "carefully inspected". I was number 25 in line on the phone to to order the arms. It will be 5-7 more business days from the time they are shipped to get here. Should have expedited the shipping for our trouble. I'll write an update when we can finally assemble and try out the swing. Might return it.
2 of us (in our 50s) put it up in an hour or so. The store one squeaks, ours does not, but there are no places where a squeak would mean trouble anyway. The instructions look scary because they are detailed and very clear. Better than any I have seen from Ikea or Walmart. The packaging is so careful you'll need scissors to undo it but it guaranteed every part was there and easy to find. I'm pretty neutral about where stuff comes from but the Made in the USA did seem to make a difference in this case 🙂
Purchased this swing in store, took less than an hour to assemble. Did not attach the canopy because it's under a covered porch. Very comfy ands seems quite durable. Kids love it, wife loves it, very happy with this purchase
My sister and I got this for our mother for Mother's Day and we were excited to set it up, but we could not find any instructions on how to put it together and then we noticed that the canopy was also not there. Returning it to shop elsewhere.
Mainstays Belden Park 3 Seat Cushioned Swing in Midnight Sky; Seats up to 3:Swing: easy assembly; durable, rust-resistant powder-coated steel frame in matte Chicago carbon finish; plush cushions with ...
Mainstays Forest Hills 3-Seat Cushion Swing: Easy assemblyDurable, rust-resistant powder-coated steel frame finished in matte espresso finishPlush cushions with button tufted detail on backDimensions:...
Mainstays Ashwood Heights 3-Seat Cushion Swing: Durable, powder-coated steel frameCanopy top adjusts for optimal shade coverageOutdoor swing comfortably seats 3 adultsUse a mild solution of soap and w...