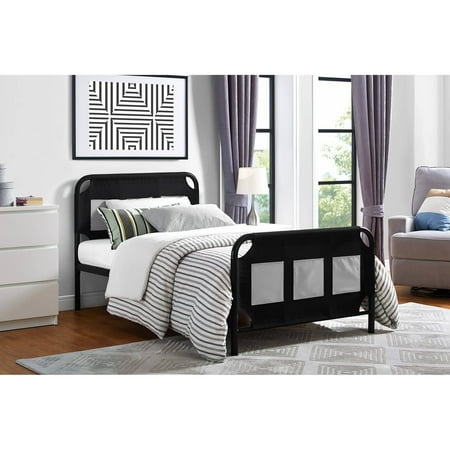 You no longer have to hide secret treasures or favorite gadgets under the mattress! Store books, treasures and even electronics in one of the Mainstays Fairview bed's convenient pockets sewn into the cloth headboard and footboard. Featured in neutral black with gray pockets to match any room or style.
Mainstays Fairview Bed with Storage, Twin, Black Metal:
Storage pockets on headboard and footboard
Black metal frame with fabric headboard and footboard
Includes metal slats and support legs
Accommodates 1 standard twin size mattress, sold separately
Easy assembly
Product dimensions: 77.5″ L x 41.5″ W x 37.5″ H
Carton dimensions: 42.5″ L x 32″ W x 3.5″ H
Weight limit: 225 lbs
reviews
Brought these beds for a 4 and 6 year old, very easy to put together. Seem to be well made. After I put it together I set on it to see, and I'm a big women and it didn't bend or anything. My boys are rough and have been jumping and playing on their new beds and I don't see any issues YET. Only issue I can say and it's a very small one is. The metal bars at the bottom you have to put in individually. Other then that all good. Other then that good buy
Great really impressed
I love the product but not the headache that I went thru with the ship to home. First and last time. Very horrible experience and waste of time and money. Overall very nice and easy to put together
This bed is well thought out, very sturdy, and attractive. It is relatively inexpensive, too. It was very easy to assemble, taking about 30 minutes – and I took my time. I'd heartily recommend it, as this has real value.
Haven't set up yet, however, got for extra bedroom, guest room/office. Looked at lots of websites and went back to this bed. With the fabric and w/storage pockets, seemed like good way to store TV remotes and books. Better than day bed not restricting location because it has no metal back. Bought the 8″ foam matress and 1 1/2″ matress pad.
This bed was easy to assemble, feels sturdy and is compact for a small room. It's high enough off the ground to use underneath for storage and the pockets are perfect for books. My 3 year old loves it.
I bought this bed for my 7 year old. It was easy to assemble, and is very sturdy. I bought this metal bed after buying a wood one from Walmart.com, and it came in broken and has to be returned. This is nice and my son loves the little pockets. You can't fit much, but he loves storing his baseball, football and Pokemon cards in them.
The product was very cute and seemed to be able to be put together easy. I spent two hours trying to make the pieces fit together. Mind you I was already frustrated bc it was almost a week late. Then the rails didn't fit together as they should. I will be returning it today.