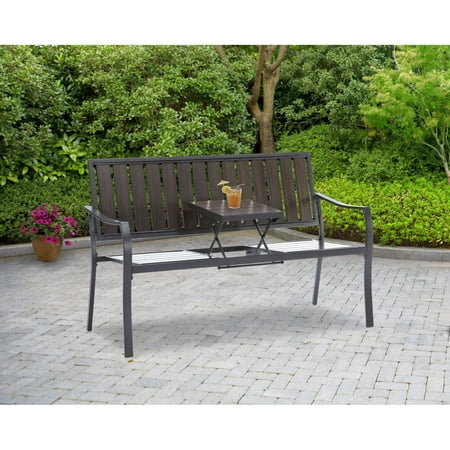 The Mainstays Endurowood Pop-Up Two-Person Bench will be a fun addition to your outdoor living space. It contains a griege frame with rich brown, faux wood finish slats and features a convenient pop-up table. This outdoor bench has a durable, powder-coated steel frame that provides for long-lasting use. Stylish and functional it creates additional seating for your back yard, deck or patio area. Mainstays Endurowood Pop-Up Bench, Seats 2:
Mainstays bench contains a griege frame with rich brown faux wood finish slats
Convenient pop-up table
Maintenance-free faux wood slat seat and back
Durable, powder-coated steel frame
Assembly required
Dimensions: 25.59″L x 55.12″W x 34.25″H
One-year limited warranty
Model# KWS620J
reviews
What a find! This bench was perfectly packaged without any breakage. The Bench is heavy and well made with actual phillips head screws holding it together! The parts came in shrink wrap cardboard, clearly labeled as to what goes where. Assembly instructions were clear and simple. Put on the arms, put on the back, tighten the allen wrench screws, put screw covers on and have a seat! The middle serves as part of the bench as well or can be used as a table with two height adjustments. It is so well made, you won't believe it. Great color and looks very expensive. HIGHLY recommended!
Assembly instructions are sketchy, screw holes are not well aligned making it difficult to complete assembly. Allen tools are miserably bad and uncomfortable to use to firmly tight the screws! Other than that the product looks ok, hopefully screws will not become lose overtime
Bench is exactly what we wanted. Not bulky and over bearing. East t o assemble.
Sturdy and stylish – great value too! Pop up table in middle is great for sitting outside to have refreshments. Nice colors and was easy to put together. Would highly recommend
This bench is the best buy I've ever gotten. It is worth so much more. If you are looking for a bench, look no more! It is very sturdy and I feel it will last a long time. Do not pass up the deal.
This bench is a great buy! Easy to put together and is very sturdy. I love the wood-look boards for the seating area. It arrived very quickly. Can't go wrong with this bench for only $59.
Solid heavy metal frame and everything except the faux-wood slats. They seem nice but unfortunately all 4 arrived with the ends bent by UPS carelessness. I suspect they have a higher chance of being undamaged if you can find them in a local store. But they are really HEAVY!
The missus wanted me to order me this bench specifically because of the pop-table feature. The table looks like is missing screws because is not attached to the seat assembly. It works as bench, but it defeats the purpose of the pop-up table. I tried calling their customer service number, but they hung up on me, because I bought it form Walmart. The customer service lady made it sound like she couldn't help me since I didn't buy directly from them?!!? I'm very disappointed, and is too heavy to send back.