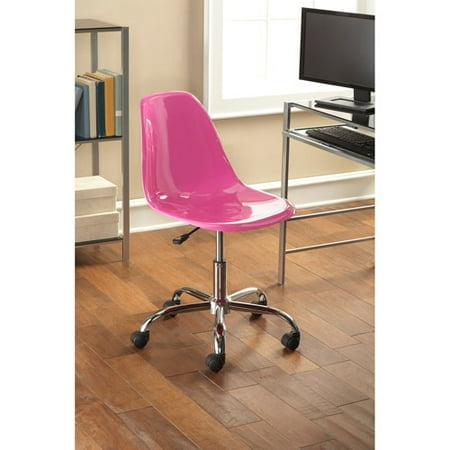 Sleek, durable and comfortable, the Mainstays office chair is perfect for those looking for a modern look with a practical function. Designed to contour to your body, this adjustable office chair will give you the comfort to sit for an extended period of time working, studying or just surfing the web. This contemporary office chair offers adjustable height controls for your ideal seating preference and is made with ABS material for durability. Shiny chrome legs and base impart a polished look and at the same time ensure extra strength. Wheel casters allow for easy mobility so you can roll to another part of the room without getting up. This contemporary office chair comes in four high gloss colors so it's easy to find one to match your home decor. The Mainstays office chair is super easy to clean and comes with a 1-year warranty. Very little assembly required. I think you've found your chair!
Mainstays Office Chair:
Contemporary styling
Adjustable height for ideal seating preference
Casters allow for easy mobility
Made with ABS material for durability
Chrome base for extra strength
1-year warranty
Easy to assemble
Dimensions: 24.41″L x 22.64″W x 34.25″H
reviews
Just received this chair today to be used in my sewing/craft room. It was packed well and had easy to follow assembly instructions. It took less than 10 minutes to unpack and assemble. Despite it's very reasonable price, it is well made and very comfortable. I would not hesitate to order this chair. Very pleased with this purchase!
This chair is used where cloth or other mesh chairs needs cleaning or high maintenance. It's pretty comfortable but not as comfortable as padded chairs.
Like other reviews have said, it is a more purplish-pink chair, which I love. It is surprisingly comfortable and sturdy. I thought I would want arm rests, but I was fine without them. Overall, very cute, functional chair for my room. The chair is height adjustable only.
Not as bright as expected but a nice green. A bit big for my,9 yr old but goes up and down smoothly. She doesnt quite weigh enough to make,it,go,up and down herself at 58 lbs.
I ordered this as a white office chair. It is super comfortable and easy to maintain. I love it.
I purchased this chair for my home office to replace a more expensive chair. I was not sure I would like it. I am VERY HAPPY with the chair. Its very easy to move in it and its comfortable. I might put a a small cushion but that only because I am at my desk for hours. I am very happy with this chair and will possibly buy 2 more for my church office.
Purchased this chair for my teen daughters desk, it was a perfect fit, easy to assemble and is comfortable.
I waited over 2 weeks for the chair to be delivered and when it arrived it was broken.