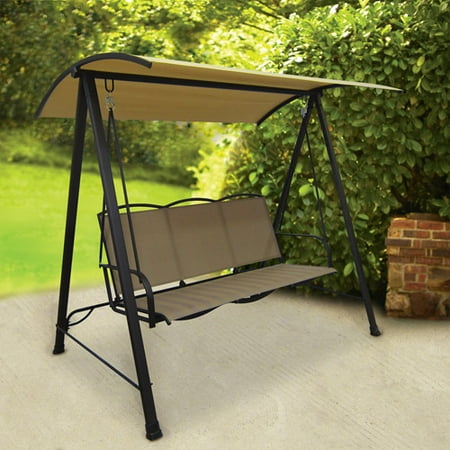 This steel Sling Swing offers a simple, stylish and sturdy addition to an outdoor patio. This classic swing in tan is constructed with a durable powder-coated steel frame with four thick legs and three cross bars for added stability. The Sling Swing's sling-styled fabric covers the backrest and seat of the chair, while polyester fabric provides a wide and shady canopy. These fabrics are UV-treated and fade resistant, allowing them to withstand wear and weathering from both rain and shine.
Mainstays Classic Sling Swing, Tan:
Sling swing:
Powder-coated steel frame
Dimensions: 47.5″D x 76″W x 65.5″H
Fabric content:
Sling fabric for seat and back
Polyester fabric for canopy
Fade-resistant
UV-treated
Manufacturer's information:
Assembly instructions included inside box
Assembly Time with 2 people is approximately 25 minutes
Clean with mild soap and warm water without abrasive materials or cleansers
Clean before storing
In cold climates, drain any water accumulated inside the frames before storing
Not to be stored at temperatures below freezing
Check all nuts and bolts for tightness before and during usage season
Do not stand on the seat
Younger children should not to be left alone without adult accompany on the swing
Furniture will arrive in 1 box
Steel frame and fabric 1-year limited warranty
Service Center Toll Free No. 1-800-585-9969, 8:30am-4:30pm Pacific Time, Monday through Friday
reviews
Exactly what I wanted. Easy to assemble. Color fit perfect for my pool side. Good quality product.
Like the look and feel of the swing. But its very light weight. Not sure how long it will last.
Loved the style, but it is so light it has blown over numerous times and the canopy has ripped everytime. Very disappointed.
Very comfortable without cushions, the swing seat is low compared to others but is fine for me 5'4 and the depth is perfect for my legs. does't cut my circulation off.
Very reasonably priced, easy to put together and an overall great product. I love it!
This garden swing is perfect for me and my pooch to spend a few hours next to the fish pond gently swinging. It does get hit by the sprinklers every few days but I wipe it down those morning really quickly and figure if it lasts two seasons I will be happy. The mesh seating lets the water still get to the grass underneath – a big priority. I wanted a trouble free swing with no need for hassle with covers. This one for me a perfect item.
The swing is absolutely what we needed because it doesn't have cushions to rip as most wings do with cushions and it is needs dirty and very easy to put together
I enjoy this swing, but I don't like that the rain puddles on top of the canopy weighing it down, instead of it just running off. This issue doesn't keep me from enjoying it though! When it rains heavy I tilt the canopy toward the back to make the water run off easier. The sling style swings are best for when you don't want to have to maintain and remove cushions. The rain goes right through the material, and it dries fast and easy.
The item came when we were told it would. We found it easy to put together–it looks very nice and is comfortable. All in all we are happy with the swing.The poor design of the top of the frame is made of three pieces. The top tube slides into the tow leg brackets and is not fastened. The design allow the top tube to pivot in the leg brackets and causes it to creak when swinging. I will have to drill holes and add screws to this connection, to try to correct this issue. Also the top canopy arrived with a small slit in the fabric.
The Mainstays Warner Heights Converting Outdoor Swing/Hammock requires assembly that takes two adults approximately one hour. Warner Heights Converting Outdoor Swing, Tan: Durable, powder-coated steel...
Mainstays Classic Sling Swing, Tan: Sling swing: Powder-coated steel frameDimensions: 47.5"D x 76"W x 65.5"HFabric content: Sling fabric for seat and backPolyester fabric for canopyFade-resistantUV-tr...
Sand Dune 3-Seat Sling Swing, Dune: Cool, comfortable and ventilated seatingDurable, powder-coated steel framePolyester fabric for canopy, seat and back sling on frame3 person canopy swing fabric is w...